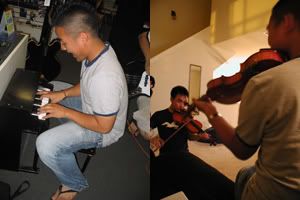 Hello there.
My name is Jeffrey. I am a second year student at UC Davis, majoring in Music and Communications. I have been playing the piano since the age of 9, and the violin since the age of 11. I love music, and I hope to write movie soundtracks one day. I'm also a big fan of Yellowcard (which might be obvious).

The covers that are on here now are things that I arranged when I was in my junior year of high school (16 years old). I know that they may be a little sloppy, but hey, I was just a kid. Being a college student now, and a music major, I have learned a lot about arranging, so expect better things in the future!

It's been awhile since I've worked on a cover, but one will be on the way sometime.
I'm planning on re-recording the current covers, because I have learned a better way of recording music onto my computer.

If you have e-mailed me in the past, then I'll let you know if I update!

NOTE: I'm sorry, but I don't have any sheet music to my arrangements. I have received many many e-mails requesting for them, but I simply don't make any. My apologies.