Members: Justin Kraus - Vocals, Nick McCormack - Guitar, Eric English - Bass, Joshua Ireson - Drums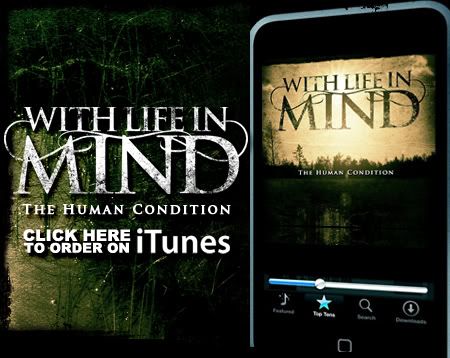 In a world where bands form and subsequently break-up in the course of a weekend, in a time in music where a band will have MySpace, Facebook and Twitter accounts before even filling out their lineup, in a time when bands will talk the ear off of anyone who will listen about how hard working they are, its refreshing to know that there are still acts that would prefer to get it right rather than get instant gratification. Acts who understand that working hard does not necessarily mean working smart, bands like WITH LIFE IN MIND.

Its that singular-mindedness that sets WITH LIFE IN MIND apart from many up-and-comers. Instead of a perform-then-perfect attitude, the band made conscious choice to make certain their songs were finely-honed before unleashing them on the world.

Its that type of perfectionist attitude, that drive to never give less than 100% - which has caused WITH LIFE IN MIND to create ripples so quickly. In less than two years since the band was publically unveiled, WITH LIFE IN MIND has performed all over the US and Canada, self-released an EP titled THE HUMAN CONDITION and recorded their debut full-length, the culmination of the bands get-it-right-the-first-time attitude, entitled GRIEVANCES.

Expertly produced by Carson Slovak of CENTURY (Prosthetic Records) and ARMSBENDBACK (Trustkill Records), Grievances packs a metaphorical (and nearly literal) punch. The album, a haymaker of heavy riffing and relentless, thundering power tempered by an underlying melodic nature, represents all of the tumult and passion behind the album and its lyrics, a no punches pulled diatribe about society and its blemishes.

While WITH LIFE IN MIND might have GRIEVANCES to air in a Frank Costanza-like manner, one thing they cannot take issue with is the fact that their get-it-right-the-first-time mentality is paying off in the form of a monster debut.