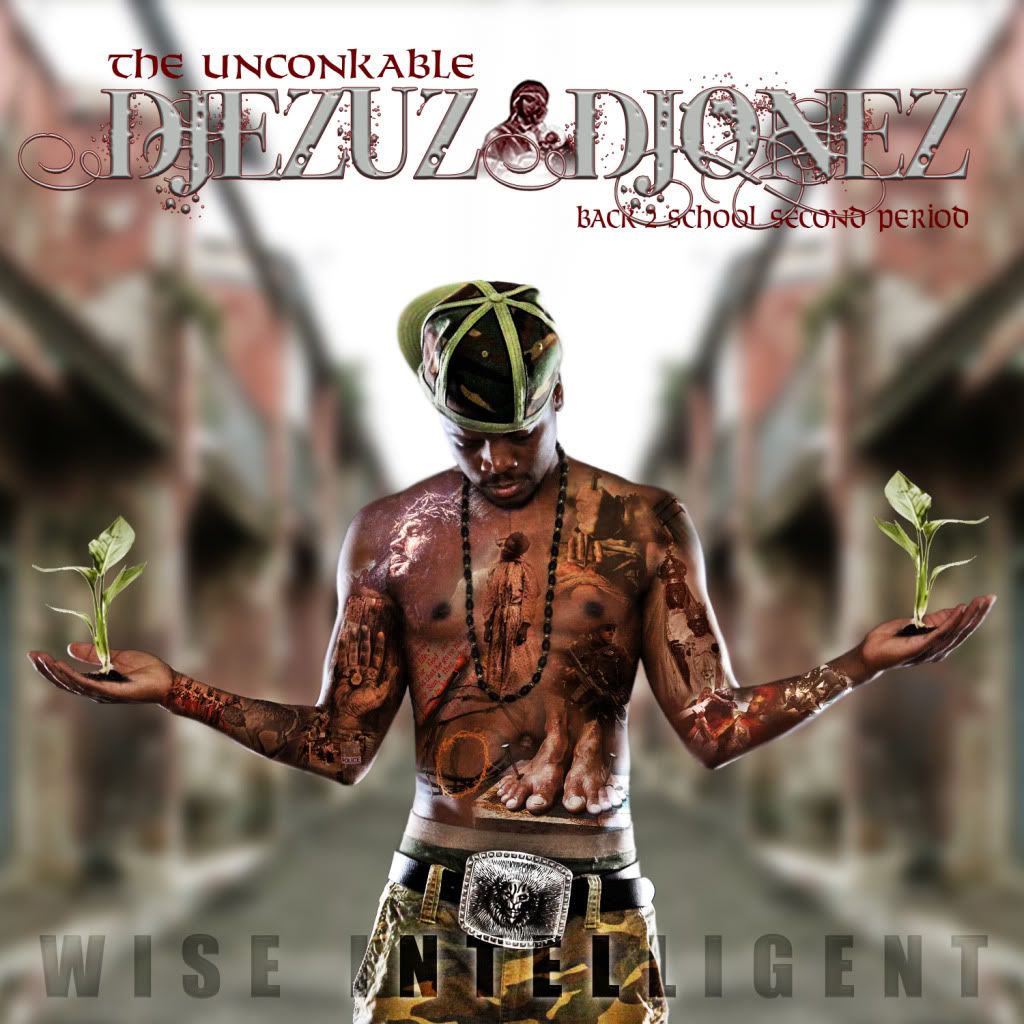 Wise Intelligent Iz...The UnConKable Djezuz Djonez drops on
February 8th, 2011!!!!

It will be available on iTunes, Amazon.com, Emusic, and all your other digital download spots!!!!

Wise Intelligent Iz...The UnConKable Djezuz Djonez
(Back 2 School - Second Period)

1. Crown of Thornz
2. Introduce Ya Self
3. My Crucifix
4. Water Walker
5. Illuminati
6. Sow Djezuz feat. Tye Austin
7. Somethin' About Mary feat. B. Smith
8. What Would Djezuz Do? (Underdog)
9. Zion feat. Rahzii Highpower
10. Undergroundspiritualgame
11. Hey Brutha Man feat. Tye Austin
12. Mark of Da Beast
13. Intelligent Dezign feat. Courtney Danger
14. Miracles feat. Contro'versy
15. Muthafuckasizhatinonme
16. I Will Die 4 U (Roman Cross)


LISTEN TO ALL OF WISE INTELLIGENT'S NEW TRACKS AT
http://soundcloud.com/wiseintelligent

For more information about The UnConKable Djezuz Djonez, Wise Intelligent, and Intelligent Muzik, visit:

http://www.wiseintelligent.com

For booking, Dj drops, interviews, and features,
contact Born Free at
intelligentmuzik@yahoo.com / 484-472-3745


For Immediate Release…

January 2011

Wise Intelligent is finally ready to reveal his highly anticipated new album, Wise Intelligent Iz…The UnConKable Djezuz Djonez. This will be the 2nd part of Wise's 7 part; "Back to School" CD box set…

Trenton, NJ – Acclaimed artist and activist Wise Intelligent of the Legendary Poor Righteous Teachers has completed his highly anticipated 3rd solo album Wise Intelligent Iz…The UnConKable Djezuz Djonez. The new album will be released independently on Intelligent Muzik / distributed thru INgrooves. The UnConKable Djezuz Djonez was produced by Jumal "Masada" Perrie of the HavKnotz, Big Scott & D-Rel of 7XL Productions, Paul "PJ" Little, and
Kasar tha Star.

"When I travel through ya city while you listening to Biggie
I'm a bigger fan of Fela Kuti
Like I really give a f*ck about Gucci, I'm nobody's property
I'm a beast of… NO Nation… I'm a beast by…vocation
Lyrically I will empirically blot the memory out of any MC"
-Djezuz Djonez/Water Walker

Wise Intelligent has never been afraid to take chances and push past any and all so-called limitations imposed on him by limited minds. With this new album Wise in the form of the UnConKable Djezuz Djonez is taking a stand for all the neglected, underprivileged, hyper segregated, redlined, and poverty stricken youth who have been forsaken in the bowels of the inner city.This will be a lyrical lesson and a reminder to every young rapper that you DON'T have to conform to the status-quo to make a dope Hip Hop album and be successful in this industry. Wise Intelligent's main mission is to "motivate the youth towards positive attitudes and lifestyles" and to help recreate an environment that will give them a "high self esteem and enhanced racial pride".

"Call it blasphemous, Zoroastracist, sacrelige
This is black heritage...I am as the Master is
Nine gods out of ONE, Atum, Adawam.
I am ONE god son, like Jesus..."
-Djezuz Djonez/What Would Djezuz Do?

In order to perform this delicate resurrection Wise Intelligent aka The UnConKable Djezuz Djonez has created his most eclectic and cutting edge collection of songs to date. The lyricism that is displayed on this album is completely second to none and shows and proves that Wise is one of the most underrated MC's in Hip Hop history. The production is daring and out of the box. The bravado of this sonic blend allows Djezuz Djonez to show us – better than he can tell us – how he can defy doubt and disbelief by walking effortlessly on primordial waters.

"I write rhymes for my hood from a heavenly high-place
think twice before steppin to my face, by God's grace,
Ill dead them, behead him, for the blaspheme…LIAR
it isn't just hot, it's FIRE"
-Djezuz Djonez/UndergroundSpiritualGame





FOR IMMEDIATE RELEASE...



Intelligent Muzik proudly presents the first sneak peak of Wise Intelligent's new and highly anticipated 3rd solo album, "Wise Intelligent Iz...The UnConKable Djezuz Djonez"



Class is back in session and The Talented Timothy Taylor has just stepped to the side and passed the mic to the lyrically elusive and socially unorthodox Djezuz Djonez...



"Water Walker" is the perfect name and metaphor that precisely describes exactly what Djezuz Djonez is doing when he effortlessly navigates around this scorching and addictive track. With this new song Djezuz Djonez takes the reins of today's Hip Hop landscape and successfully blends all things into one. With every word that Djezuz relentlessly spits he literally becomes a bridge that takes us from what was, to what is, and delivers us directly into his world of what will be. He is not here to discuss or debate about what real Hip Hop is, because to put it quite bluntly Djezuz Djonez is Hip Hop done fucking right!


You can listen to the song and watch the video at

http://djezuzdjonez.com / http://inthehereafter.blogspot.com




"Water Walker" is NOT a song for those who are musically challenged and content with the current lopsided Hip Hop paradigm, but if you're ready break with convention and tradition please come and join The UnConKable Djezuz Djonez up on the corner!



The track was produced by Masada of HavKnotz Productions.

"Water Walker" is a blistering assault on your senses, that not only shakes you up, but wakes you up as well...



1. Water Walker

(T. Grimes, J. Pierre)

Produced by Masada and Wise Intelligent ASCAP

Recorded at B Smith's House

Mixed and Engineered by Brian Smith, Masada, and Wise Intelligent

Written by Wise Intelligent





For more information about The UnConKable Djezuz Djonez, Wise Intelligent, and Intelligent Muzik, visit: http://www.djezuzdjonez.com, http://www.konscioushiphop.com, http://www.myspace.com/wiseintelligent /http://inthehereafter.blogspot.com



You can follow Djezuz at http://www.twitter.com/wiseintelligent



For booking, Dj drops, interviews, and features please contact Born Free at intelligentmuzik@yahoo.com / 484-472-3745






INTELLIGENTNEWZNET

INFORMING the HIP-HOP COMMUNITY

Sounds of Resistance: Benefit Concert & Art Show for Haiti
New York Get Ready and Let's Stand United for our Brothers and Sisters in Haiti!!!

Wise Intelligent the UnConKable Djezuz Djonez will be in New York on Sunday, January 24th @ Santos Party House (Up and Downstairs)

Santos Party House
96 Lafayette Street
NYC

The show will be hosted by TastyKeish, Telisa D, Liz Gomes, Harrabic Tubman

Doors open @ 8:00 pm

Wise Intelligent aka Djezuz Djonez will be rocking a long side J-Live, G.O.D. (Pitchblack), Agallah Don Bishop, Jeru the Damaja, Hasan Salaam, Rugged N Raw, Donny Goines, Lex911, Cymarshall Law, YCtheCynic, Nina B, Rebel Starr, Ekko, DCQ, Eboi Da Rebel, Mala Reignz, Rebel Diaz, Dedan, Kasimu, Chace Infinite, Platinum Mustache, Marcel Cartier, UMI, Mz FeFe + G3mz

This benefit show is being presented by... Natalie Crue of Crue1 Media Group & Louie "Plot" Sosa...In collaboration with Existence is Resistance (EIR) Art Haus Productions, and Supreme Management

All proceeds of this event go towards YELE Haiti & Rural Haiti Project. We will be collecting medical supplies/medicines, NEW blankets, shoes, and NON-Perishable Foods!!!

http://www.twitter.com/wiseintelligent / http://inthehereafter.blogspot.com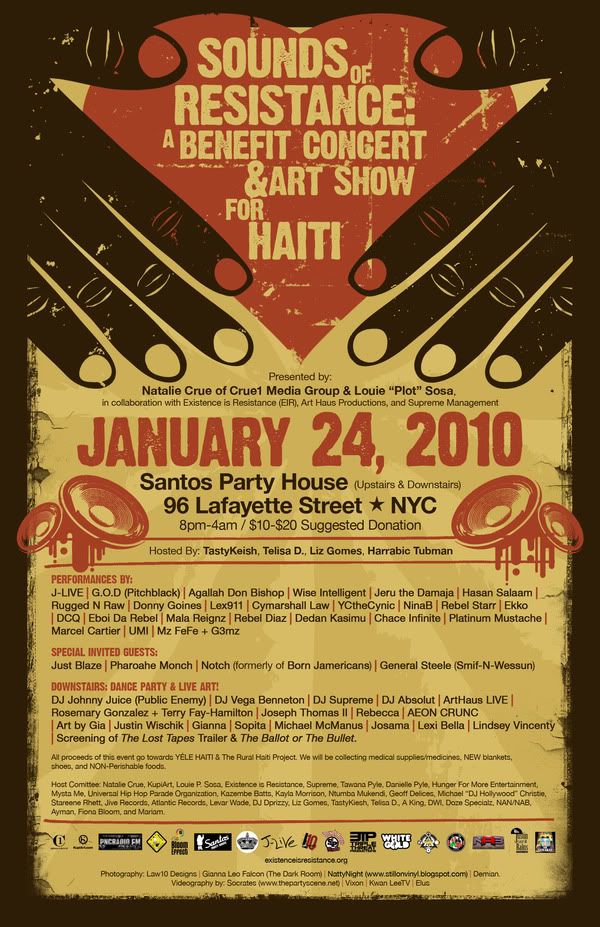 INTELLIGENTNEWZNET
INFORMING the HIP-HOP COMMUNITY

The next HEREAFTER concert will be in Philly on Wednesday, March 25th @ Club Fluid on 613 South 4th Street.
The show will feature incredible performances from…

Wise Intelligent of the Legendary Poor Righteous Teachers, The Almighty Twin Poets, Natural Born Leaders, God Head The General, Mo Flex, Kareem, KD Morris, and Nation of Riot.

Date…March 25th

Location…Club Fluid 613 South 4th Street…Philadelphia PA 19107

Time…Doors open promptly at 8:30 pm

If you haven't seen THE HEREAFTER Video Clip you can check it out here http://inthehereafter.blogspot.com/ and http://www.intelligentmuzik.com
Here goes a breakdown of just what the HereAfter is all about...

The HEREafter is a Hip Hop meets Spoken Word forum that focuses on a more promising future, i.e, a future shaped and maintained by grassroots activism. Our aim is to motivate the Hip Hop/Spoken Word community to be active participants in bringing about the type of change needed to move the culture, community and country to a HERE after 8 years of rule by fear under the Bush administration, HERE after unfettered greed and corporate profit over people, HERE after substandard public schooling, HERE after racism, sexism, ignorance, violence, and hate, HERE after major record companies, and HERE after mainstream radio and video stations misrepresentation of Hip Hop culture!!!
You can follow Wise Intelligent on Twitter… http://twitter.com/wiseintelligent
For more information about THE HEREAFTER contact Born Free at intelligentmuzik@yahoo.com

It's NO LONGER Smart to be DUMB!













INTELLIGENTNEWZNET
INFORMING the HIP-HOP COMMUNITY

THE HEREAFTER UPDATES


The next HEREAFTER Live Show will be on March 25th, 2009 in Philadelphia @ Club Fluid at 613 South 4th Street. Stay plugged in to http://www.intelligentmuzik.com and http://inthehereafter.blogspot.com for more information about who will be performing but what I can tell you right now is that this show is shaping up to be the best one yet! Please don't be the only one in Philly who wasn't there!!!!

If you want to perform in THE HEREAFTER please contact us NOW! You can reach us at intelligentmuzik@yahoo.com / 484-472-3745

You can follow Wise Intelligent on Twitter… http://twitter.com/wiseintelligent

Click the link below to check out the latest THE HEREAFTER Radio Show with Wise Intelligent & Narubi Selah rockin out with Dj Baye Kemit

http://thehereafter.podomatic.com

I can guarantee that you're going to LOVE this show cuz we took everybody on a quick trip thru time and showed and proved exactly what a BALANCED Hip Hop Radio Show should sound like! Plus Djezuz Djonez came thru and spit a few exclusive bars just to keep things nice and lively…

Hit us up at http://inthehereafter.blogspot.com / www.myspace.com/wiseintelligent and let us know what you think about the show. THE HEREAFTER CAN NOT exist without YOU, so we need you to add on and become an ACTIVE citizen in this new world of NO LIMITATIONS…

You can now listen to THE HEREAFTER Radio Show with Wise Intelligent & Narubi Selah every week on WNJC 1360AM

5:30 PM – 6:30 PM Guest/TBA

Call in: 856-227-1360
Netcast: www.wnjc1360.com /
http://www.wnjc1360.com/Live_Netcast/live_netcast.html

THE HEREAFTER Radio Show is sponsored in part by Soulful Foods: www.soulfulsnacks.com, Intelligent Muzik Group: http://www.intelligentmuzik.com

Sponsors & Advertisers may contact Born Free @ intelligentmuzik@yahoo.com

It's NO LONGER Smart to be DUMB!









INTELLIGENTNEWZNET
INFORMING the HIP-HOP COMMUNITY
INTELLIGENT MUZIK PROUDLY PRESENTS…

THE HEREAFTER
(Inventing the Future)

Good evening ladies and gentlemen, Jews and Gentiles. The HEREAFTER is open and ready once again to take you and yours beyond the mundane and transport you directly into the extraordinary world of cutting edge Hip Hop and Spoken Word! The next show will be on Friday, January 23rd @ Liquid Charm on 1207 Race Street in Philadelphia. The doors will open promptly at 9:00 pm, so make sure that you and your block are in the building and ready to go because this show promises to blow your mind!

This show will feature incredible performances from…The dynamic Twin Poets, Ms. Wise, Magnum O, Syn the Villain, Eternal, Nadria Norjahan, and of course Wise Intelligent of the Legendary Poor Righteous Teachers.

If you missed the first 2 HEREAFTER shows, hit up our blog site http://inthehereafter.blogspot.com to get in tuned…

Now that you're up to speed, we need you to come thru and show your support for the most talented artists and activists that Hip Hop and Spoken Word have to offer!

Date: Friday, January 23rd
Location: Liquid Charm, 1207 Race Street, Philadelphia, PA 19107
Time: Doors open promptly at 9:00 pm

THE HEREAFTER is also looking for sponsors & advertisers. Sponsors & Advertisers may contact Born Free at intelligentmuzik@yahoo.com and/or call 484-472-3745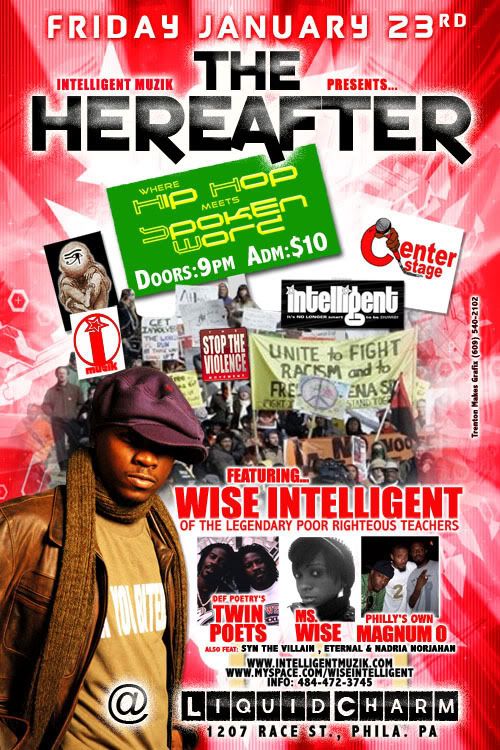 Thank you in advance and we look forward to seeing you in THE HEREAFTER…
It's NO LONGER Smart to be DUMB!










The New Album Wise Intelligent Iz "The Talented Timothy Taylor" is Available on iTunes! Buy it HERE!


Wise Intelligent's BLESSED BE THE POOR: Limited Edition is Available Right Now at CDBaby…Click Here...Blessed be the Poor: Limited Edition


"WISE INTELLIGENT iz"The Talented Timothy Taylor" and "BLESSED BE THE POOR" are NOW AVAILABLE at the following record STORES IN YOUR NEIGHBORHOOD!

BIOGRAPHY
Wise Intelligent is the front man for the critically acclaimed and Legendary Hiphop trio known to the world as the Poor Righteous Teachers. PRT hail from and represent to the fullest Trenton New Jersey (New Jerusalem). They released five incredible albums throughout their illustrious career. Their groundbreaking first album Holy Intellect was released on Profile records in 1990 and introduced to the world one of the most unique and revolutionary sounds in Hiphop history. Their equally impressive follow up album Pure Poverty was released in 1991 and cemented their place as one of Hiphops most elite groups. Black Business (1993/Profile), New World Order (1996/Profile), and Declaration Of Independence (2001/Exit 7a Records) continued to build on PRTs standard of lyrical excellence and commitment to raising the consciousness of poor people worldwide. Throughout all of PRTs albums, they have espoused the virtues of righteousness (without being self-righteous) as embodied in the struggle of poor people around the world. Growing up in any ghetto in any country around the world is not an easy task. Urban decay, joblessness, homelessness, racism, drugs and death are just a few of the things that await the children of the world, and PRT has always stood on the front lines of that struggle. Poor Righteous Teachers have also been on numerous national and international tours.
Now in 2006, Wise Intelligent is stepping back out on the front lines once again with an incredible new solo album that will undoubtedly raise the bar of lyrically integrity and change the game once again. Over the years many different styles have developed, and many different Mcs/Rappers have come and go, but none as original, honest, or distinct as the lyrical wizardry and unforgettable delivery of Wise Intelligent. Blending a unique style of Jamaican chanting and rapid-fire poetry, Wise has always delivered an unparalleled vocal assault.
As a diligent student of hip-hop pioneers such as Afrika Bambaataa and The Soul Sonic Force, Grandmaster Flash and The Furious Five, The Cold Crush Brothers, Run DMC, Public Enemy, Boogie Down Productions/KRS ONE, Eric B & Rakim, Brand Nubian, Ultramagnetic Mcs, X-Clan, and an adolescent immersion (baptism) into the Caribbean dancehall, rockers, and reggae sounds of Bob Marley, Peter Tosh, Yellow Man, Eek-A-Mouse, Sista Nancy, Early B, and Josey Wales among others Wise Intelligent is in his own wordz became "Every MC"
This New Jersey native (born + raised) representing Reb Brick City/DivineLand (Trenton, NJ) possesses all the attributes of a timeless warrior poet: insight, substance, skill, fortitude and most importantly integrity. "es cuomo es Wise" Wise is what he is!
Wise Intelligent IzThe Talented Timothy Taylor will be released Summer 2007. This powerful album will mark the moment when a True MC and Classic Hiphop Muzik will make its debut against the backdrop of the heavily marketed and marginally talented artist that have saturated the industry for far too long. With this new album Wise wants to take you on an intimate journey into the making of a Legendary MC. Wise Intelligents message is a simple yet powerful one The reason Hiphop is considered DEAD and the community is in a complete state of chaos and disorder is because WE ARE NOT LISTENING TO ENOUGH INTELLIGENT MUZIK!. So tell me are you ready to go back to the time when talent determined who was the best MC? Well if you are then get ready to embrace and experience The Talented Timothy Taylor
For more information about Wise Intelligent go to www.myspace.com/wiseintelligent
and www.intelligentmuzik.com.
For booking, interviews, and features contact Born Free at bornfree9@hotmail.com