Members: Aaron, Brian, Brad, Jason, Ryan


""Obviously the roadtrip gods haven't heard the quintet's patented of feel good dance-inspired punk...the type of sunny pop that requires a legitimate positive attitude to properly convey. Luckily, they've got it."-Alternative Press Magazine

"If you have to choose one CD to be the soundtrack to your summer, I'd give Life of the Party a listen. So many bands in this generation's music industry can be discounted as being the same thing over and over again. But with Vega Under Fire, there is something special. Behind the front of catchy tunes, we can find actual talent and a diverse sound." - Absolute Punk

"Powerful guitars, dance beats, bass lines as well as pop vocal and synth melodies create a refreshing commixture similar to the cheerful sound of Motion City Soundtrack (Epitaph) and the "guy next door" vocals of Say Anything (Doghouse/J Records)" - Pulse Magazine

"Definitely a band that will be making big steps in this year, and for many years to come, as long as dancing never goes out of style, these guys will always have a job!" - Absolute Punk

"Vega Under Fire could easily compete with national indie dance pop bands, such as the Plain White Ts, whose song Hey There Delilah is the top selling track on iTunes." - Naples Daily News


"Life of the Party is a dance-y album, each track makes you want to get up and dance along with it, which is very appropriate since Vega Under Fire's sound really is built to make you dance and sing along." Scratchplatepub.com

"With a wide variety of indie rock bands breaking through to the mainstream these days such as the Plain White T's, Motion City Soundtrack, etc… a band like Vega Under Fire has an outstanding chance of breaking through and attracting one heck of a following if their latest EP "Life of the Party" is any indication." Guestlist Magazine

"Indeed, the release party for Vegas first EP, Hello..., saw more than 450 kids in the sound-system sanctuary. It was so many we stopped counting, says Roy Terry, Cornerstones senior pastor. It was a great show. - Naples Daily News

Vega Under Fire is an Indie Dance Rock group based out of Naples Florida. With members converging from previous bands with all different styles and backgrounds, Vega brings a new but familiar sound to the table using dancy verses mixed with powerhouse choruses and intricate breakdowns.
In a market filled with recycled trends and music, Vega Under Fire works to accomplish something more than catching the tail end of a fad. One can see it in the energy and sweat in their live shows and hear it in every note on their EP: Vega Under Fire strives to get their music out to everyone while having fun and staying positive and creative.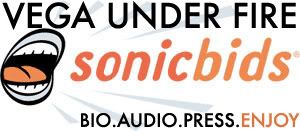 CHECK OUT VEGA UNDER FIRE ON THESE AWESOME SITES!



BOOKING
Justin Shield 723 688 3966
Justin@Musicinctalent.com

Jeremy Lenzo Management
lenzo.king.mgmt@gmail.com


Brad Shellito | Vegaunderfire@gmail.com