Members: Kelly, Joey, Mike, Steve, Jeff M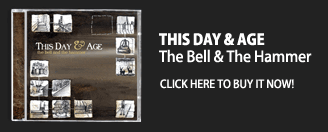 Members of This Day & Age have started a new project called The Reign of Kindo! They just finished an ep that will be coming out August 21! Head on over to the bands PureVolume & MySpace for a taste of the Ep before it's release! And MARK YOUR CALENDARS!!

Our new record, "The Bell and The Hammer" is in stores NOW!!



This Day & Age is a Buffalo, NY-based band whose music focuses on complimenting melodies with memorable guitar lines, well-placed piano and a rhythm section that ties it all together. Each song tackles relevant topics and is a well-crafted, sincere story that envelopes the listener. The band's live show has become famous for being well-rehearsed and energetic.

Forming in 2001, It was the band's incessant dedication to both the stage, the road, and the writing process that originally earned them the attention of the Orlando -based One Eleven Records. Signing with the label in 2002, the band immediately got to work on its freshman release. After condensing the introspective, yet pop sensible nature of their music into thirteen watertight tracks, ".Always Leave the Ground" was born.

After more than a year and a half on tour in support of their debut, and heading overseas to Japan, their highly anticipated follow up, "The Bell and The Hammer" has reeived rave reviews and is available now!




Fill out your e-mail address to receive our newsletter!






Devin Lima & The Cadbury Diesel
The Exit Radio
Foreverinmotion
Inkwell
Mariday
Mashlin
The Reign of Kindo
Rookie of the Year
Rory
The Spill Canvas
Thin Dark Line
This Day & Age