Members: Mia Koo & Ava Koo
♥ THE KUNG FU GIRLS ARE RECORDNING NEW SONGS NOW!!!♥
ADD US ON...




Kung Fu Girls
Kung Fu Girls



WATCH OUR MUSIC VIDEO FOR "DANCE WITH ME" HERE!

THE KUNG FU GIRLS




Everyone loves The Kung Fu Girls and that is not an exaggeration

mia koo = lead vocals and guitar
ava koo = vocals, guitar and keyboards
ariel nelson = drums
mike garcia = bass

aim - the kung fu girls
JOIN OUR KFG FAN GROUP HERE




The Kung Fu Girls are a Pop Rock band based out of Long Island, New York. The Kung Fu Girls are Mia Koo (lead vocals and guitar), 17, and Ava Koo (vocals, lead guitar, and keys), 18. The sisters have toured and played all over, from The Viper Room (California) to The Knitting Factory (NYC) and these girls mean business. They have been on the front page of purevolume 5 times, getting more plays than Panic! At The Disco, Fall Out Boy, Hello Goodbye, Underoath, and many other bands on purevolume. Their full length record "Thinking Of You" has been released on Shining Star Records this past fall, showing all the critics what it really means to be a Kung Fu Girl.

Mia Koo, 17, just graduated from Walt Whitman High School this past year. "Music is my passion" she says, while mentioning that she is graduating a year early from High School to "tour full time, and see the world even faster." In her spare time she likes to write music with other artists, including Tom Higgenson, from "Plain White T's", Ido Zmishlani from "Last Week" and many other artists. She sang/cowrote on two of the songs off of the "Plain White T's" new record "Every Second Counts" tracks titles "Our Time Now" which is their new upcoming single and the opening theme for the television show "GREEK" on ABC Family, and also wrote a track on their record called "Gimme a Chance." She also has another musical talent, the violin. She and her sister have been playing for 8 years.

Ava Koo, 18, also just graduated from Walt Whitman High School. She is exceptionally intelligent, and gifted. She attended John Hopkins Summer program at Siena College for two years, studying existentialism, and ethics. Music is not her only passion, but she also enjoys gardening and cooking in her free time. "My garden is my life" she says while digging holes in her backyard for her new tomato plants. Although planting, cooking, and school are important to her, music is her number one priority. These talented girls are ensured a bright future in the music business.



Check out our BRAND NEW VIDEO LIVE PERFROMANCE PODCAST for FREDFLARE.COM HERE! STAY CUTE!











Only $3!!! That's about the same price (or less than) a gallon of gasoline!!! Wow!


Full length out now!!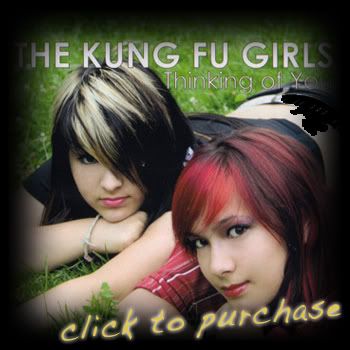 Click to purchase!





Demand The Kung Fu Girls in your city with eventful.com!








Email:
QUESTIONS AND COMMENTS
BOOK THE KUNG FU GIRLS