Members: Joe Maloney,Marco Brizuela,David Hines
The Front Line:


"A nicely written album, Suspicion leaves you with a distinct notion that everything will be okay in the realm of music. After all if musicians like this are leading the way, soon we wont have to wonder why the Jessica Simpsons of the world are making any money in music. Their ghostly visions are blended with a distinct knowledge of song crafting that blends the 80s era of Interpol with vintage rock-n-roll ala early 90s Athens, Georgia (yes Im talking R.E.M.). Alternative rock thats finally a real alternative."

- J-Sin (smother.net)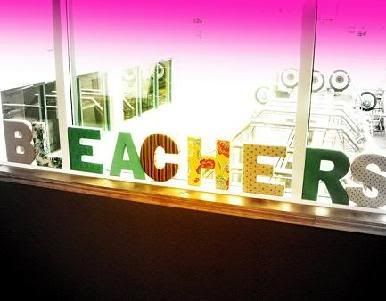 Joe Maloney and Marco Brizuela began writing songs together in early 2002, performing at various locales in and around Las Vegas as an acoustic-based duo named the Bleachers.
A small yet devoted following quickly developed, prompting Maloney and Brizuela to record a self-titled, six-song CD EP, which was released in December of 2002. The Bleachers CD EP was praised for its stark, minimal acoustic-based songs which walked a lyrical tightrope of allegories, deception, and hope.
Not wanting to simply be pigeonholed as a strictly acoustic act, The Bleachers possessed a strong desire to record a full length album with a full band sound. To that end, Maloney and Brizuela recruited the Kingpin of drumming, David Hines, to join the band.
Much of 2003-2004 was spent writing songs, reworking arrangements on some of the already-written acoustic songs to give them a fuller sound, rehearsing diligently and completing work on the band's permanent studio, Six of One which was built from the ground up.
Towards the end of 2004, the Bleachers began the first of a series of recording sessions which would yield the songs for its debut album, Suspicion. To give themselves a small break from the studio, the band performed several shows in early 2005. The band couldn't stay away from recording for long, though; Maloney, Brizuela and Hines spent the spring and summer of 2005 recording the remainder of the album.
Once the recordings were finished, the band spent the fall of 2005 sequencing and mixing the album. Mastering was done by Don Tyler at Precision Mastering in Los Angeles, CA. with album art, layout and type created by members of the San Francisco-based MH Collective.
The Bleachers
are playing selected shows throughout the first half of 2006 to support the 6/27/06 national release of its full length debut album,
Suspicion
.