Members:
Nick Tautuhi - Vocals
Vasely Sapunov - Guitars
George White - Bass
Ben Davidson - Drums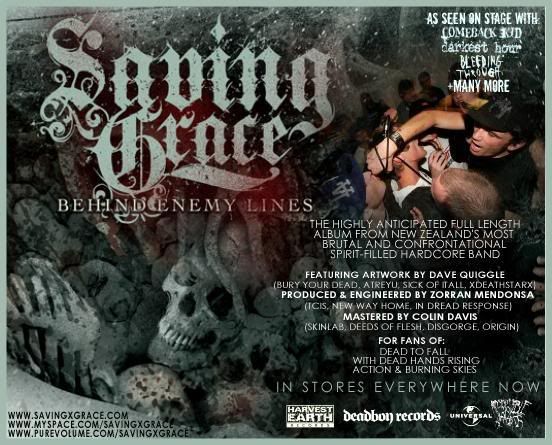 Saving Grace formed in early 2005 in Gisborne City on the East Coast of New Zealand.

Combining brutal metal driven riffage, big breakdowns and mosh parts with the passion, intensity and ethics of traditional hardcore, Saving Grace deliver a blistering and crowd engaing live performance, never failing to leave a strong impression.

Lyrically the band deals with topics of faith, family, friendship as well as the darker side of life including betrayal, suicide, violence and abuse.

Saving Grace are no strangers to the long roads of Aotearoa and their passion for touring has secured the band a strong and dedicated nationwide fan base as well as the reputation of the most brutal Christian hardcore act in New Zealand to date.

Since the formation of the band, Saving Grace have shared stages and toured with some of the biggest names in national and international hardcore and metal including The Bleeders, Antagonist, Parkway Drive, Bleeding Through, Comeback Kid and Darkest Hour to name a few, as well as notable appearances on numerous New Zealand festivals including Hamtown Smakdown 06 and 08, Parachute 06 and 07 and Killerfest 07 and 08.

The band released a self titled 5 track demo EP in June 2005 on East Side Crew Hardcore which was picked up by Global Routes Music for full nationwide distribution, which is currently out of press.

2006 saw the highly successful release of a new split CD with Hastings metalcore band Upheld, which features two previously unreleased tracks as well as tribute covers.

April 2008 saw the band release their highly anticipated full length studio album 'BEHIND ENEMY LINES' which has already secured the band three seperate licensing deals in New Zealand, Australia and USA.

The album was recorded by NZ Metal guru ZORRAN MENDONSA (TCIS, NEW WAY HOME, SECOND THEORY, LOS MUERTOS) and Mastered in California, USA by COLIN DAVIS (SKINLAB, DISGORGE, DEEDS OF FLESH, VILE).

The cover art for 'Behind Enemy Lines' was produced by renouned American artist DAVE QUIGGLE (BURY YOUR DEAD, SICK OF IT ALL, ATREYU, XDEATHSTARX).



FOR TOUR BOOKINGS AND MANAGEMENT CONTACT:

NEW ZEALAND

HELEN HARMER - ESC HARDCORE

Email: helen@eastsidecrew-hardcore.com Ph: +64 6 863 2414


AUSTRALIA

KYLE WHEELER - SKP MANAGEMENT

Email: skp-management@hotmail.com
Ph: +61 411 565 305


CANADA

GILLIAN SCOTT - COMMIT TO IT PROMOTIONS

Email: gillian@creativemindsbooking.com

USA

KEVAN MARTENS - HARVEST EARTH RECORDS

Email: kevan@harvestearth.com



FANS & FRIENDS IN NZ PLEASE POST THIS BANNER ON YOUR PAGE





FANS & FRIENDS IN USA PLEASE POST THIS BANNER ON YOUR PAGE




DO NOT MISS OUT ON THIS AMAZING SALE!!!