"ACRES", NEW RELEASE OUT NOW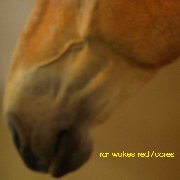 CLICK HERE TO LISTEN AND ORDER

VISIT THE FULL RAT DISK STORE HERE:





Rat Wakes Red is in a constant state of mourning and wonder. Summer 2010 brings "Acres". The new LP would suggest a prolonged elegy to the dead and awakening. It is a spectacle of simple sounds: piano, acoustic guitar, synths, organ, strings, woodwinds, drums, tin whistle and many, many voices. James Raftery sings, plays, plucks and blows. Jeral Benjamin returns to produce and provide violas while woodwind stars chime in to emboss the layered lather. Matt Raftery adds the needed kick from his drums while Hannah Fury lends her voice to "Always". The ensuing song service is sung from the heavens inside, like an internal choir and orchestra. It comes from loss, change, death, and new beginnings. A slow burn of sad, beautiful dark nights of the soul.

"Acoustic folk guitar and viola, with a whispery, troubled voice? Yes please! Rat Wakes Red is a strange moniker for such an exquisite murmur...", so wrote Jack Rabid in The Big Takeover upon hearing Rat Wakes Red's debut album Dizzy on Daddy, a lush, romantic, edgy song cycle of heartache and yearning. Rat Wakes Red began as James Raftery creating songs in late night living room light. Odes to longing and loss found their way to producer Jeral Benjamin and together with 32 tracks and a spare lineup of James on acoustic guitar, voice, found sound percussion and Jeral's multi-tracked viola they created Dizzy on Daddy, a sad and sweet wall of sound. Rabid continued "Each time Raftery hits one of his bass strings, it slips into a slice of Jeral Benjamin's hovering viola, and the air is like leaves falling on a fall day." Rat Wakes Red followed up with a second full-length release Horizon Drops. Electric guitar, keys, drums, and bass provide the flipside to the previous acoustic rush. The songs are louder, faster and rock, with James' voice returning in harmonic hooks and cryptic choruses. From the Sentimentalist Magazine, "Horizon Drops combines shimmering 4AD, Throwing Muses inspired moments...". Rat Wakes Red's most recent release is the ep/dvd, Energy Garage. The songs and music video are spacey acoustic folk, pop with sweeping strings, and quirky rock. The Ectophiles' Guide declared it "...a folksy and intriguing EP, only four songs but they really hit the mark". Radio quickly took notice of Rat Wakes Red with Dizzy on Daddy and Horizon Drops charting CMJ and AAA Top 30. Rat Wakes Red has played live shows from New York City to Toronto and has opened for such artists as Bob Mould, Hayden, and Sloan.