Members: Roood, Perv, Jul, Cheto, Aida



Hello hello there Droogies of the world..

Poro here,
We play love, we play hate, we play life and we play death...


Lots of energy and feelings involved in this band, head bangin, loud disorted guitars and bass, and screaming our heart out is what its all about...

Poro started about 6 years ago as a cover band but it just wasnt enough and everything came down... 3 years later some of the old members got back together and invited some new ones this time making their own songs.

Que tal Droogies del mundo...

Esto es Poro,
Tocamos aerca del amor, del odio, de la vida y de la muerte...

Es una banda con muchos sentimientos y energia involucrada, todo esta en agitar la cabeza, guitarras con muchas disto y gritar a todo lo que da el corazon...

Poro empezo hace 6 aos como una banda de covers pero no era suficiente, hasta que 3 aos despues viejos miembros de la banda se reunieron con nuevos miembros para hacer sus propias canciones..


Roood - Vocals
Perv - Guitar
Jul - Guitar
Cheto - Bass
Aida - Drums

Any questions or requests to porotheband@gmail.com
Check out too our site on myspace Here
Preguntas y contrataciones a porotheband@ gmail.com
Checa nuestro sitio en myspace Aqui


- N E W S -

Oct/07/06 - And Yes.. Stick it to your face or anywhere you want... on sale when we play and stuff.. brand new stickers of the band check em out.




Sept/27/06 - We're selling poro's tshirts its only $80 pesos each if u want yours just send us an email to porotheband@gmail.com check out the design below
Estamos vendiendo playeras de poro estan en $80 pesos si quieres una envianos un email a porotheband@gmail.com el diseo es el sig...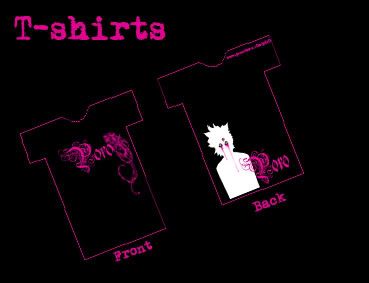 Sept/26/06 - Here some pics of Poro with Zoe and Plastilina Mosh ... Lets make it happen.
Love love love



Sept/15/06 - Pictures of sept 14 at Monster Bar on the picture section above, check em out and leave a comment...

Sept/8/06 - Poro will be playin this sept 14 at Monster Bar, Mexico DF Cover $50.00
Sharing stage with:
Waffle Link
Nude Link