Members: Brandon Reilly, Joe McCaffrey, Brandon Meyer, Mike Fleischmann

2009 finds New York City-based indie-pop masters Nightmare of You at the height of their most inspired and creative period to date; with new songs, a new lineup, and a brand new full-length album entitled "Infomaniac", slated for a August 4th, 2009 release. The band has formed a unique and passionate fanbase with its jaw-dropping live shows, creative blending of impeccable musicianship, master wordplay, and unforgettable melodies and harmonies. An aggressive touring schedule is slated for Summer/Fall of '09 in support of the new album, with a 6-week US Headlining tour already in the books. Catch them whilst you can.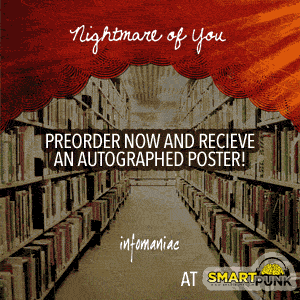 order from
District Lines
Looney Tunes

OUR NEW ALBUM 'INFOMANIAC' IS OUT NOW! PICK UP YOUR COPY FROM ITUNES, AMAZON.COM, BEST BUY, HOT TOPIC, FYE, OR LOCAL INDIE STORE!