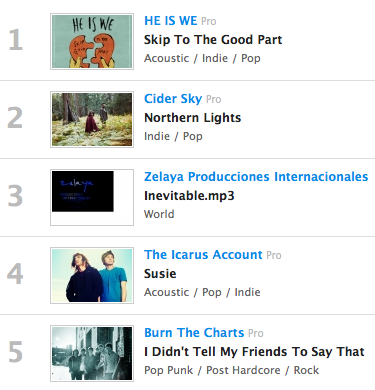 PureVolume's
weekly charts
reflect the site's most-played tunes over the course of the previous week. Every Monday morning, the Week tab on our Top Songs page ranks artists by the most-played jams. Our champion chart-toppers from the week of Dec. 12-18 are:
1) He Is We:
Your favorite duo
premiered
the new song "Skip to the Good Part" on PV; it rose to world domination speedily, and rightfully so.
2) Cider Sky:
The
Breaking Dawn
soundtrack darlings actually went
up
a spot on the chart from last week. Sounds like plenty of people are still spinning "Northern Lights" and the
PV-premiered remix
of "Glowing in the Dark."
3) Zelaya Producciones Internacionales:
This Argentinian outfit (is it a label?! An intense band name?!) stormed the chart with
new songs by someone called Angela Leiva
. If you're up for some passionate Spanish sounds...
4)
The Icarus Account:
The tender twin brothers premiered their
Keeper of Your Heart
EP and gave away
a free song
. You dug.
5)
Burn the Charts
: These New York rockers streamed their new EP
Seattle's Calling
right here and brought tons of fans to the party. DIY4life.
See last week's chart
>>