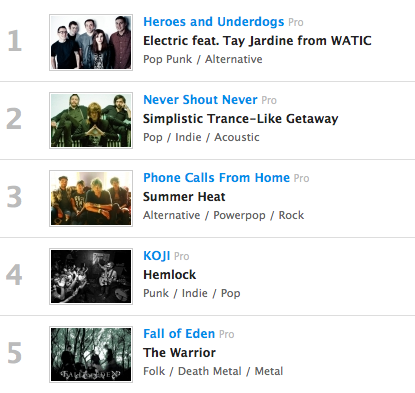 PureVolume's
weekly charts
reflect the site's most-played tunes over the course of the previous week. Every Monday morning, the Week tab on our Top Songs page ranks artists by the most-played jams. Our champion chart-toppers from the week of March 19-25 are:
1) Heroes and Underdogs:
These pop-punkers are no strangers to PV's top spot -- they've been
here
before with "Dear Sarah, I Wish Sorry Could Cover It." This time around, they're rocking a brand
new song
, "Electric," ft.
We Are The In Crowd
's Tay Jardine. We also think it's an impressive feat to snatch top honors when you factor in our No. 2 champions...
2) Never Shout Never:
These dudes are travelling the US on a massive spring
tour
, yet they've still managed to stop by our top charts for a week-long stay. It could have something to do with the fact they want to give you tickets to see them live. It could also just be that their awesome. We'll say it's a bit of both -- and you should
get those tweets in
!
3) Phone Calls From Home:
These Boston boys weren't afraid to tackle some of the best
one-hit wonders
[and 80s songs] out there, and we'd say that garners a top spot in itself. Interesting enough, it's one of their originals that's landed them here. Covers are cool, but there's nothing like an artist's own work.
4)
Koji:
This indie-rocker makes his PV charts debut with "Hemlock," which he offered up for free as part of our
Never Shout Never tour sampler
. He's hitting the road with them this spring -- and if you win those tickets to see NSN, you'll also get a chance to hear this jam live!
5)
Fall of Eden
: This Illinois metal band is down one spot from
last week
, but they're still standing their ground in our top charts. We weren't kidding when we said their song "Warrior" lived up to its name -- it's been fighting some serious battles in our top songs section, and we're wondering if it'll fight through one more week?


See last week's chart >>