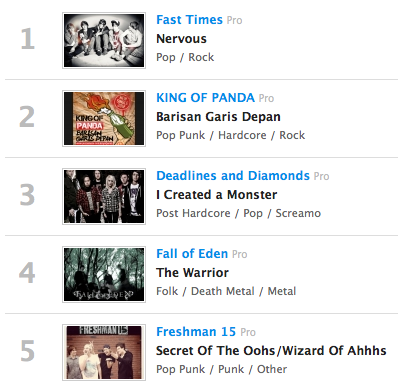 PureVolume's
weekly charts
reflect the site's most-played tunes over the course of the previous week. Every Monday morning, the Week tab on our Top Songs page ranks artists by the most-played jams. Our champion chart-toppers from the week of March 12-18 are:
1) Fast Times:
Last week these pop-rockers
debuted
not only their new song, "Nervous," with us, but their band line-up. The result? PV chart domination. Not a bad way to mark your band's entrance, eh?
2) KING OF PANDA:
This Indonesian punk band makes their PV chart debut with "Barisan Garis Depan." With its pop-punk mentality, tinged with hardcore elements, it's rocking some noteworthy instrumentation. And we think it's worth mentioning that PV's foreign circuit is slowly moving up the charts from last week.
3) Deadlines and Diamonds:
These California rockers "Created a Monster" for sure, with their
new song
of the same name soaring in at No. 3 and marking their chart debut. With a sound that combines classic hardcore elements with melodic vocals and with producer Tom Denney backing their release, we're ready to watch these guys inch their way to No. 1.
4)
Fall of Eden:
This Illinois metal bands marks their chart debut with "The Warrior" -- a song that is living up to its name with its aggressive instrumentation and ability to overthrow countless others for this top spot. The song comes from the band's new album of the same name, which was released March 13.
5)
Freshman 15
: These Georgia pop-punkers are rounding out this week's list with "Secret of The Oohs/Wizard of Ahhs" from
their new album
,
Here's to Feeling Good
. Looks like they lived up to that title with this jam and their debut spot on our charts.

See last week's chart >>