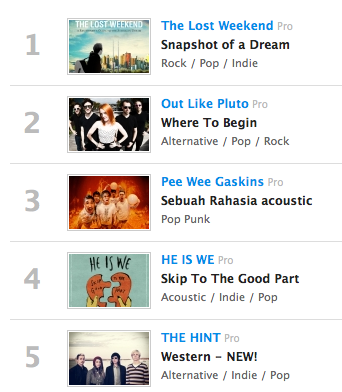 PureVolume's
weekly charts
reflect the site's most-played tunes over the course of the previous week. Every Monday morning, the Week tab on our Top Songs page ranks artists by the most-played jams. Our champion chart-toppers from the week of Jan. 9-15 are:
1) The Lost Weekend:
Formerly known as
The Arrival
, this band was looking for a "change in sound and direction" with their new,
debut album
and alias. We'd say hitting No. 1 is a step in the right direction. We'd also say offering "Snapshot of a Dream" as a free download was a smart choice as well.
2) Out Like Pluto:
These Seattle-based pop rockers just want to make music you'll have fun listening to. Looks like their mission has been accomplished. Their debut
album stream
and free download of the infectious "Where To Begin" seems to have won over more than a few hearts.
3) Pee Wee Gaskins:
This Indonesian pop punk band has become a recurring leader in PV's foreign band circuit. They return to our list this week with acoustic number "Sebuah Rahasia," up one spot from the song's No. 4 debut on
our charts
nearly two months ago.
4)
HE IS WE: We've said it once, we'll say it again -- HE IS WE struck gold with this one. It's been over one month since
the duo
premiered
"Skip To The Good Part," but their reign on our charts has yet to waver. Fun fact: they've charted in
this spot
for the past three weeks, as well.
5) The Hint
: These Baltimore rockers return to our chart with the
premier
of their new song, "Western." We could say the 100 year photo accompanying the song helped things out, but this is such a solid jam on its own, it needs no strategy. We still think the photo is awesome, though.


See the last chart >>