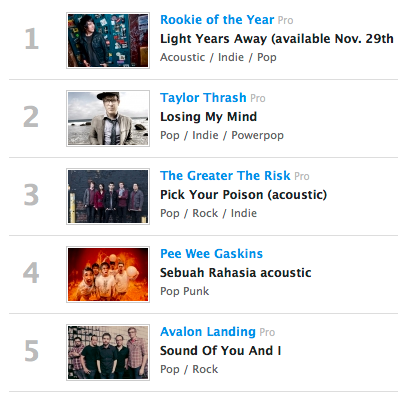 PureVolume's
weekly charts
reflect the site's most-played tunes over the course of the previous week. Every Monday morning, the Week tab on our Top Songs page ranks artists by the most-played jams. Our champion chart-toppers from the week of Nov. 14-20 are:
1) Rookie of the Year:
The indie-popsters strummed their way to the top of this week's charts with the
premiere
of their acoustic number "Light Years Away." Previewing a good portion of their upcoming album
Along For The Ride
on their PV profile seemed to have helped as well.
2) Taylor Thrash:
It may have been the
free download
of "Losing My Mind" that brought this pop-rock solo act to our number two spot, but we're betting his thoughtful answers to our PV Q&A also had a little something to do with it. Either way, we're fans.
3) The Greater The Risk:
These Virginia pop-rockers are PV-approved through and through. They debuted their first single right here on PV, and it shot to the Top 10 within a few days. That being said, it's no surprise that years later they would land in the Top Five of our weekly charts, this time with the
premiere
of the introspective acoustic number "Pick Your Poison."
4)
Pee Wee Gaskins:
This Indonesian pop-punk band steals the number four spot with the very melodic, acoustic number "Sebuah Rahasia." You may notice...it's not sung in English. We think it's a great testament to the fact that good music knows no language barrier.
5)
Avalon Landing:
With one listen to "Sound Of You And I," it's very clear how the tune coveted these Las Vegas rockers a slot in our Top Five. A
free download
of the equally melodic "Cold Front" and the generous stream of their
Demos, Dead Ends, and Do-Overs LP
rounds out the reasons why these guys not only earned, but deserved this spot.


See last week's chart >>