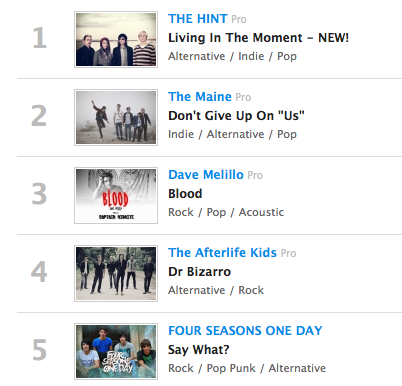 PureVolume's
new weekly charts
reflect the site's most-played tunes over the course of the previous week. Every Monday morning, the Week tab on our Top Songs page ranks artists by the most-played jams. Our champion chart-toppers from the week of Nov. 7-13 are:
1) The Hint:
These Maryland synthmeisters
premiered
one song and shared another new jam as a free download, all in one fell swoop. "Living in the Moment" and "Consider This a Sign" helped the band win the week on PV.
2) The Maine:
The PureVolume heroes premiered a
tender acoustic performance
of their new single "Don't Give Up on 'Us,'" from their forthcoming record
Pioneer
. Seems like watching The Maine gents strumming acoustically in a circle got fans listening to the studio version of the tune all over again.
3) Dave Melillo:
The singer's
free new track
proved that if you've got a song called "Blood," it's most likely going to wind up as a dubstep remix. And that's a good thing.
4)
The Afterlife Kids
:
These Florida rockers clung to the PureVolume Top Five for the
second straight week
, with their blistering tune "Dr. Bizarro" getting some major plays. But it's not just a one-song deal with these guys -- their self-titled deluxe EP is still
streaming
in full.
5)
Four Seasons One Day: Four young gents from Italy used their new song "Say What?" to remind us all what a globally vibrant community PureVolume has. Don't worry -- these dudes sing in English, and the song's a free download.


See last week's chart >>