Electric Guest have been insanely busy promoting their new album, Mondo, which made its Downtown Records debut on April 24. When they hit NYC, we were more than eager to sneak a peek at their day, and they were happy to grant us access. These four pictures commemorate a trip that hit up hot spots like Bowery Ballroom and the David Letterman show -- and not-so-hot spots like a New York doctors' office. Hey man, bands get sick too. Check out their photos, spin "This Head I Hold" off of Mondo, and make sure to let us know which other bands you'd like to spend 'A Day in NYC' with.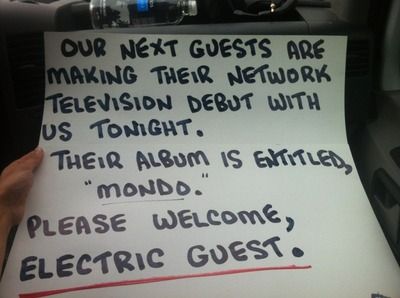 This [above] is from David Letterman. My uncle got it for us after we taped the show. He works in Times Square doing lights for different things. Right before we went on, one of the guys moving the sets shook my hand and said he knew my uncle, had gotten my family some extra tickets, and 'to knock em' dead.' It was a good way to start because I was crazy nervous and it's like, 45 degrees in the studio, which is freezing.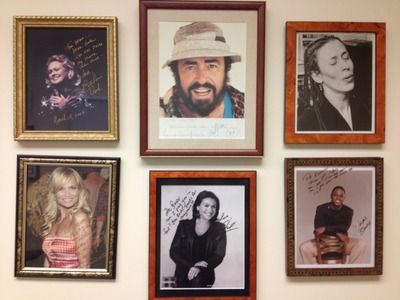 This [above] was in a doctor's office about 5 hours before we did Letterman. I'd woken up with no voice from not sleeping in a long time, so I went to a doctor to get a steroid shot in my ass to free up my vocal chords. She had tons of platinum records, and pictures of famous singers with hand-written notes of how she'd saved their lives.



Here are two pictures [above and below] from our Bowery show. I don't know what to write about these other than that it was a super fun show and that I'm glad I didn't know that the guy from the New York Times was there. Oh -- and it was our first show where we had our own lights which was cool.