Ohio-based pop-rockers Let It Happen bring a burst of optimistm to the genre with their passionate vocals, shining orchestrations, and thoughtful lyrics. Their new single, "Can't Close My Eyes", tackles those signature themes of growing up, but does so in a refreshingly positive way… Read More »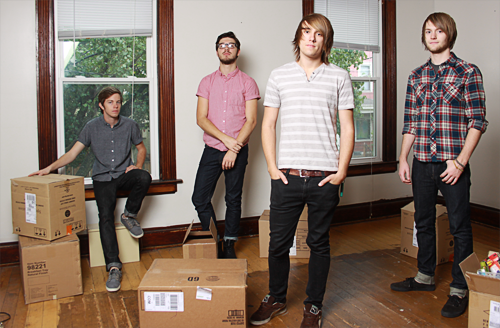 Mixing a high-energy performance style with lyrics that are at the same time raw and accessible, Let It Happen has matured into a one of a kind Pop/Rock band, developing a loyal and steadily growing fan base along the way. Drawing from musical influences such as Third Eye Blind, Jimmy Eat World, and Relient K, Let It Happen has developed a catalogue of songs so personal and distinctive, you can't help but hit repeat!
Forming in 2009, the band quickly went to work writing and performing in local venues, gaining critical and popular praise for their memorable melodies and unguarded lyrics.
Fronted by guitarist, songwriter, and lead vocalist Drew Brown, the songs of Let It Happen give voice to a generation on the bridge. "Regardless of age, life is complicated, and our generation is coming of age in a complicated time. Our music speaks to that." says drummer Sean Highley. Still, the music of Let It Happen is dynamic and fully energized. Powered by Michael Vogel's edgy lead guitar and Nathan Joiner's driving bass, the music dances, even when wrestling with tough topics. As Drew Brown says, "We don't preach. We want our audience to know we're right there with them, and going through the same things. It's important to us that we convey that when we play live."
The band has just recorded their new EP, "It Hurts, But It's Worth It" with producer Bryan Beeler (Cinematic Sunrise, Chiodos, The Swellers) and are optimistic about the future. Lookout for Let It Happen to be coming to a town near you this winter and summer!