Members: Kyle, Marshall, Nick, Dave, Chris, Don & Scott
~NOV ~7~ 06~
*NEW* ~Check out our shows page or our MINUS VINCE / Mysapce page
for more info on upcoming shows in your area...possibly..



~NOV ~4~ 06~
*NEW* ~ MINUS VINCE L.A. Dates now up...But I promiss if your
patient MINUS VINCE will be in your home-town soon...luv ya..

~SEPT ~26~ 06~
MINUS VINCE LAST MINUTE SHOW WITH THE CHERRIE POPPIN DADDY'S...I dont
know really know how too say KICK FUCKING ASS..Red Devil Lounge - Thursday
Night (the 28th) in San Fransisco. Please come check this one out. For more info, CLICK HERE or visit www.MYSPACE.com/MINUSVINCE...

~SEPT ~26~ 06~
MINUS VINCE NEEDS YOUR HELP, THIS IS HUGE FOR US...CLICK LINK FOR MORE INFO...



~SEPT ~15~ 06~
Next Friday @ The Verge in San Rafael with Mother Fuckin SUBURBAN LEGENDS...
Cant miss this one...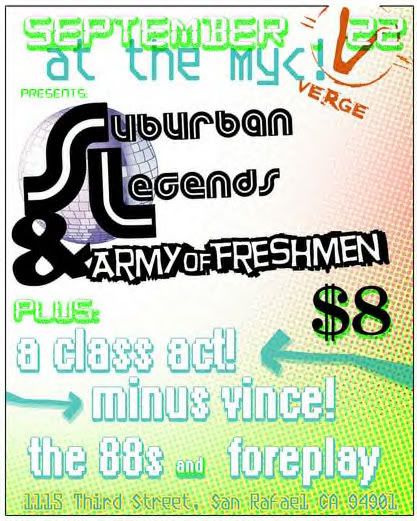 ~AUGUST ~23~ 06~
Kick Ass show at The Oakland Metro sunday night. Playing with ISSUE TEN
& A CLASS ACT is always enjoable...Thanks to everyone who came out,
we know you had to work in the morning...More show to come MVians.

~AUGUST ~19~ 06~
TOMORROW NIGHT @ THE OAKLAND METRO....SUPER HYPHY ! ! ! !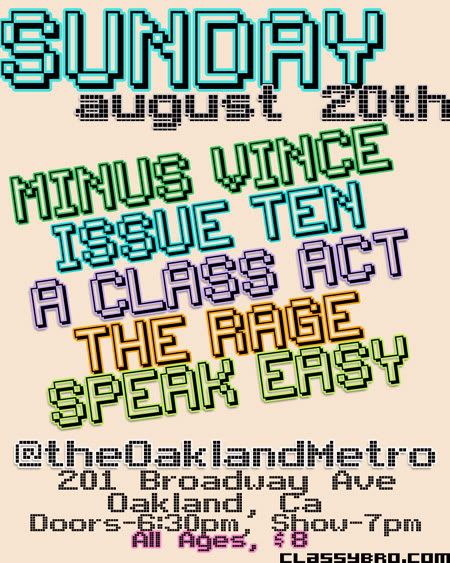 ~AUGUST ~3~ 06~
*NEW* ~ My Only Friend & Storyteller's are now avalible for downloading..
*NEW* ~ Shows and if have yet to peep our MINUS VINCE MYSPACE page,
we have NEW pictures and graphics for your veiwing pleasure..
MINUSVINCE.com is our MYSPACE URL...Click Below.
__www.MINUSVINCE.com__

~AUGUST ~1~ 06~
Thanks to all the bands that we played with @ the battle and to Andrew for
Beleiving in us. Everyone who came to support us cause they missed the
show on Wednsday, haha. THANK YOU THANK YOU THANK YOU. We
came in 2ND place behind "GETTER" who was rad and totally Earned the
Victory. Next time the battle Will be at WARPED!!!

~JULY ~28~ 06~
*NEW* ~ So we made it past the first battle and now were playing this saturday,
same place, San Jose Skate, but we are playing at 6:30 so BE THERE EARLY!!!
Well if you want to see us play that is...See ya'll at the show.

~JULY ~10~ 06~
Much luv to all the bands we have played with in the past month...And to all
our friends and fans who have come to support us no matter where we roll..
MINUS VINCE loves you all...thank you.

~JULY ~8~ 06~
COME SHOW SOME MORE LOVE FOR M.V.. WE WANT TO BLOW THIS BATTLE
APART.



~JULY ~2~ 06~
THURSDAY NIGHT @ THE MOJO LOUNGE in FREMONT...Going to be One
HELL-OF-A-SHIN-DIGG...Garenteed.

~JUNE ~21~ 06~
*NEW* ~ Pictures from Blake's and The Pheonix Theater...
Vegas Pics on the way like this one below...



~JUNE ~14~ 06~
THURSDAY NIGHT @ UNITY SKATE in LIVERMORE. GARRENTEED TO ROCK
YOUR WORLD!!!

FRADAY NIGHT @ BLAKES on TELEGRAPH. Come see SHEOL - MINUS VINCE -
NORMAL LIKE YOU - INSPECT HER GADGET - and (ISAAC & DUSTY) from
TRAGEDY ANDY...

~JUNE ~12~ 06~
GO DUMB...VEGAS KICKED ASS LIKE WE KNEW IT WAS GOING TO. THANKS TO
EVERYONE IN VEGAS SO MUCH FOR SUPPORTING THE M.V. WE WILL RETURN...

~JUNE ~1~ 06~
GET OFF YOUR ASS, GO TO TICKET MASTER, AND BUY MINUS VINCE TICKETS....
OR YOU WILL BE SORRY. VEGAS HERE WE COME.....AGAIN.



~MAY ~17~ 06~
TOUR CANCELED...

~APR ~21~ 06~
*NEW* ~ MINUS VINCE and NORMAL LIKE YOU
Summer tour kick~off in Vegas @ Jillian's on the Strip Baby!!
More tour date's on the way...
*NEW* ~ If you are interested in helping out MINUS VINCE with our
STREET~TEAM, then check out our MYSPACE page @...
W W W . M Y S P A C E . C O M / M I N U S V I N C E

~MAR ~28~ 06~
*NEW* ~ Dwonload Our Entire old CD "Good For Nothen" for FREE!!!!!

~MAR ~26~ 06~
Saturday Night was AWSOME BABY WITH A CAPITAL"A!!!" We got the march
madness..Thanks to everyone who came out Last Night and all the bands that
played.

~MAR ~20~ 06~
Great show on Sat. to all the bands including ISSUE TEN FOR ROCKING SOCKS
OFF!!!!!! The whole show was a good time. We were a little late getting there but
it turned out to be all good..
*NEW* ~ Shows added with MONKEY..
*NEW* ~ "I Hate your Girlfriend" now downloadable!!
*NEW* ~ Vegas Blog. Check out the tails of MINUS VINCE..on the road @ myspace..
Click here to veiw our latest blog..www.myspace.com/MINUSVINCE

Buy MINUS VINCE'S Stoyteller's @ SMARTPUNK.com..



~MAR ~13~ 06~
Oh man we must have been going so dumb on the way home..we almost
lost a walet, a phone, a lab-top, and alot of chapstick...Much love to
The Super Cantalope's, I mean THE SUPER PINNAPLE"S for kickin' some
ass in Vegas...And mad thanks to Jillian's and Take One Night Club for
booking us last minute. Thanks to OVER THE LINE (Fucking Raw) and all
the bands who we played with and for...

~FEB ~27~ 06~
Thanks again to everyone who came out to the show last night. It was a rainy
time but it worked out. Thank you to The Hanks, IV4K, and Jay Tea for kicking
the hell out of the stage. Cant wait to do it again. Get ready for Vegas!!!!

Also help us get onto the ErnieBall Stage @ Warped Tour by clicking on the link
below.



*NEW* ~ Download "Artificial" from our new EP "Storyteller's" for FREE!!
And download "Just Maybe" off our full lenght CD "Good For Nothen."
Stream our entire new EP "Storyteller's" for FREE!!

~FEB ~26~ 06~
Another KICK ASS show..the biggest @ San Jose Skate History!!! Thank You
again to all the fans, family, friend's, and the Bands. We obviously couldnt have
done it with out you. Tonight catch MINUS VINCE - THE HANK'S -
I VOTED FOR KODOS - FINE BY ME - A CLASS ACT - and JAY TEA
(from THE ARROGANT SON"S of BITCHES) @ The Oakland Metro.

~FEB ~25~ 06~
Great show last night to all the fans and the bands. If you didnt get enough of
MINUS VINCE and THE HANKS, check us out again in san jose tonight @
SAN JOSE SKATE!!!

~FEB ~24~ 06~
Thats right, we are playin both nights @ the INTERNATIONAL SKA CIRCUS!!!! And
we didnt need no bullshit contest to get in either...But the first show is the kick off
party friday night @ JILLIAN'S. We will be playing in the restraunt while our homies
"THE SUPER PINEAPPLES" are ripping in up on the stage opening for
"VODOO GLOW SKULLS." The next night were gonna bring the house down @
TAKE ONE NIGHT CLUB for the SKA CIRCUS after party. Playing for Reel Big Fish
and the rest of the bands. The whole weekend is sure to kick some ass and we
are ready to rock it!!!!
Check out our show's section for more info... -Vegas Baby

~FEB ~23~ 06~
INTERNATIONAL SKA CIRCUS AFTER PARTY SHOW!!!! Right now it's 21+ but we're
working on getting it down to 18+. Lineup, (in no order yet) THE SUPER PINEAPPLES -
FLIP THE SWITCH - OVER THE LINE - METAMOSKA - and MINUS VINCE. Most of the
bands that are playing on the Ska Circus show, will be here hanging out there.
The Skatalites - Reel Big Fish - The Toasters - Fishbone - VooDoo Glow Skulls -
Labanda Skalavera - Westbound Train And MORE!!!!!!
707 Fremont Street, Las Vegas, NV 8910
Check out our show's section for more info... -Vegas Baby