Members: aaron,matt,dylan,todd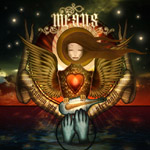 Means
Sending You Strength
Buy Here
Listen Here

Means on Myspace
Introducing Means, a prolific and zealous hardcore band from Regina, Canada. This four-piece is taking the US completely by surprise with their frenetic melody-infused breakdowns and tandem vocals that blend seamlessly from a high-octane hardcore voice to powerful and clear clean tone. These guys get right to the heart of the matter with forthright lyrics that compliment the intensity of the music; and ferociously intense it is. Means attacks each song with a severity that suggests complete surrender and immersion in the genre.
The members have come together from the surrounding areas of Regina with the intent to play music that will encourage others and serve as a source of strength. Means plays songs that are birthed from their shared experiences and geared toward anyone who is looking for meaning in music. Straight from their heart to yours, each Means song is written with the hope that everyone will be able to take something from the music to keep as their own.
An intense live performance and a light-hearted attitude is what you can expect from the Canadian four. A full length record (In Red Grace Lonely Tree Records 2004), 4 song EP (More Than Watchmen for the Morning Torque Records) and extensive Canadian touring have paved the way for Means to make the most of 2007 by signing with Facedown Records to release their brand new album Sending You Strength. Sending You Strength was recorded and engineered by John Paul Peters (Comeback Kid, Every New Day) and will see a March 6, 2007 release on Facedown. Look for the band on tour in the US non-stop this spring as well as a spot on Facedown Fest 07.
Dylan Johnstone (vocalist) had this to say about the band's recent signing: "Facedown is the perfect label to break us into the American scene. I know we'll get along great. When I hear [the name] "Facedown" I think "integrity" and I can't wait to get on the road with that name behind us!"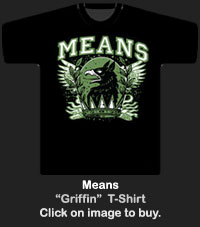 Request the new music video from means at
www.muchmusic.com
and
www.muchloud.com