Members: Margo Reymundo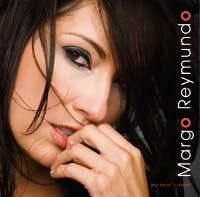 Available now!
Purchase/download it from:




or

Margo Reymundo's recent cd release, "My Heart's Desire", is an elegant reminder why the human voice is referred to as an "instrument." She's created nothing less than a ferociously nuanced and passionate sound that defies nomenclature. Ms. Reymundo, cognizant of that inevitable realization, refers to it as "Organica" - a kind of counterpoise to "Electronica." In other words, she's articulating a world constructed of unfettered vocals that rivals anything created with synthesized sound.
This album of "Work and Love" as Reymundo calls it, offers a range of sensuous rhythms and vocals in the form of intelligently handled songs featuring Margo's original compositions and three covers. It's the kind of music that makes you want to turn out the lights and drift. As in: forever - past time zones and continents.