Orange Peal Newsletter
June 21st, 2007
\"Newscorp Goes Policital?! Get Out Of Here!\"
Two of The Sixxx Banned From Vegas for Reasons That Did Not Stay In Vegas!
Thank God for myspace. Seriously.
Just when I was beginning to think that our future as free and bad ass Americans was in jeopardy I went to the premier social networking site of the universe. Prior to this particular visit I was ready to throw in the towel- I mean where was I going to find objective, freely accessible, unpaid for information on political candidates for upcoming elections? Sure, Ill have Fox News and CNN hooked to my catheter (because I like to have BOTH sides of the REAL story, five-minute segment at a time, bludgeoned into me). But for this old habit of vegetation to happen I would have to get up from my arse and sit and watch people argue and try to make points.
I would have to get off myspace!
So imagine the excitement when I saw political candidate pages, brought to you by Tom of Newscorp! With this in mind, I have a few suggestions for these candidates:
Have funny youtube videos on your page. Everyone likes these things! But moreover, you should have a cookie detect which area the visitor is from and cater to their youtube needs. Red state? Throw up a video of Foxworthy or that guy who makes fart jokes and pretends to be a poor farmer-type person (upon further research: Larry the Cable Guy). Make sure a song is up from those bleach-tipped pop-country music stars called (further research) Rascal Flatts. Of course if you are in one of the more progressive, populated, economy-driving states be sure to have Daily Show and Family Guy videos with a soundtrack of JUSTIN TIMBERLAKE: because everyone loves My Love. That song rocks:http://tingster.i-m-e-e-m.com/video/6gY0zdzP/justin_timberlake_mtv_vma_performance/ (no dashes)

For Jesus sake put some cool flash games up, like Bomb the Foreigners or something, or even a GW boxing game, because beating him up in a game is basically making change in society.
Have a funny survey up. And baby pictures.
Have a sweet default pic. Maybe something cleavagy.
Have sweet party pics up.
Here, have input yourself- here at Orange Peal we encourage feedback and if Hillary reads this she might just pull out the election. Feel free to leave a comment on our blog or email ME with a response. We will vote on it here at the office and the winner gets free swag!
Now we just need to be able to actually vote for actual elections on myspace and Ill be set. If we create scratch n sniff LCD screens and disk drives that fart out McDonalds burgers I wouldn\'t even have to leave this place of places!
Are these politician profiles weird to anyone else?
So something was brought to my attention by our publicist the other day and it is pretty much the coolest thing ever. The Stranger\'s Six were banned from Vegas for... well you read the thing: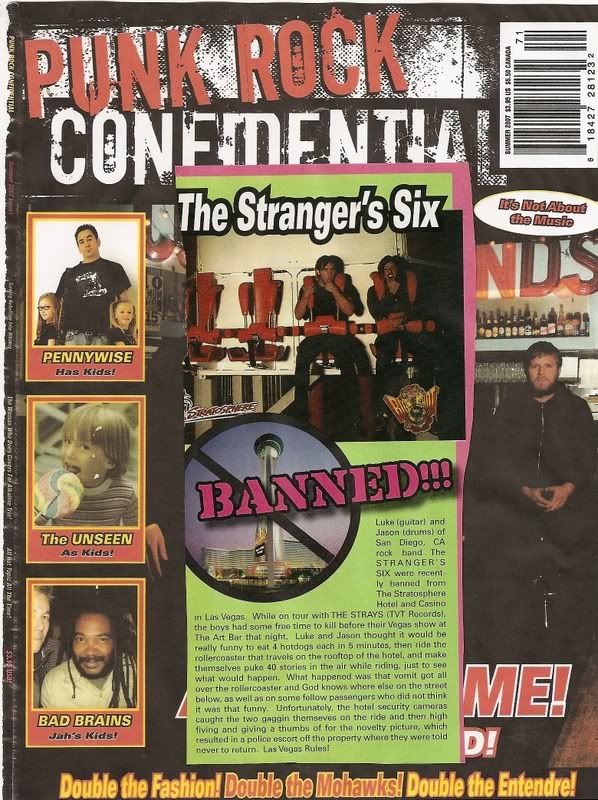 The Sixxx will be embarking on their coastal adventures soon enough; here is the tour flyer by J.SWANK:
As is is still June, here is their June cover of Revolt.
Infamous interview about life, love and Aaron\'s penis: (http://www.punktv.ca/?c=105&a=2600)
There is also footage of an exclusive live interview with most of the band before their CD release show in San Diego the other week, located HERE (http://stimtv.com/member/thestrangerssix). Just go to Exclusive Interview under My Videos.
The Sixxx have also been featured in this issue of Campus Circle. Check out what Aaron has to say.
Be sure to click over to orangepeal.com or myspace.com/thestrangerssix for updated tour dates!
I\'ve been telling a few people to download this song called \"Meet Me\" by The Transit War but the link was taken down from spin.com. It\'s an oldie but greaty and everyone seems to enjoy the hell out of it. This is our gift to you, world:
http://orangepealrecords.i-m-e-e-m.com/music/ccXawJxB/meet_me/ (take away the dashes)
As noted last week, The Transit War have been selected by the Alternative Press as one of the 22 Best Underground Bands That Likely Wont Stay Underground For Long! Thats right: out of an entire nation completely addicted to music, The Transit War were chosen- and they deserve the hell out of it:
Their name implies violence against transportation, but its musical genres this San Diego four-piece destroy. Their sophomore full-length Miss Your Face is 11 variations on an indie theme, sometimes with Smoke Or Fire urgency and others with Jimmy Eat World pop overtones.
So be sure to grab this issue of AP and check out some of those other bands in your continued and appreciated support of The Transit War and other (somewhat) independent rock bands.
Continuing an ongoing theme with TTW, their contribution to the Punk The Clock compilation entitled Brilliant Deceivers is complete and completely radical. Be sure to check it out.
The Casual Lean are keeping busy with some great tour dates with excellent supporting bands back east. The Orange Peal team has been diligently putting together the artwork for the record and the packets for the mailings and other really exciting label work for the July release of Swears. Swears! Swears! Swears!
Alright keep the dream alive,
Orange Peal Anchorman
---
Tour Dates
June 21st - The Casual Lean @ Tammany Hall - Worcester, MA
June 22nd - The Casual Lean @ Ralph\'s Diner - Worcester, MA
June 22nd - The Stranger\'s Six @ Studio 99 - Bakersfield, CA
June 30th - The Stranger\'s Six @ The LZ Bar - Yuma, AZ
June 30th - The Casual Lean @ The Living Room - Providence, RI
July 11th - The Stranger\'s Six @ Velvet Jones - Santa Barbara, CA
June 15th - The Stranger\'s Six @ The Tonic Lounge - Portland, OR
July 16th - The Stranger\'s Six @ Studio Seven - Seattle, WA
July 17th - The Stranger\'s Six @ Club Impact - Tacoma, WA
July 17th - The Casual Lean @The Middle East w/ Lola Ray - Cambridge, MA
July 18th - The Stranger\'s Six @ The Gadlfy - La Grande, OR
July 19th - The Casual Lean @ The Living Room w/ Lola Ray - Providence, RI
July 20th - The Stranger\'s Six @ The Trench - Merced, CA
July 21st - The Stranger\'s Six @ Cedar Centre - Lancaster, CA
July 25th - The Stranger\'s Six @ Jive n Java - Salt Lake City, UT
July 27th - The Stranger\'s Six @ The Bunkhouse - Las Vegas, NV
July 28th - The Stranger\'s Six @ Lestats - San Diego
August 4th - The Transit War @ The Casbah w/ Spell Toronto - San Diego
Orange Peal Records, Inc - 12 S. First Street, 3rd Floor - San Jose, CA 95113, USAVoice: (408) 998-1630 - Fax: (408) 998-1633
www.orangepeal.com
-
info@orangepeal.com