Members: Keiyuu, Yuura, Yasuno, Mai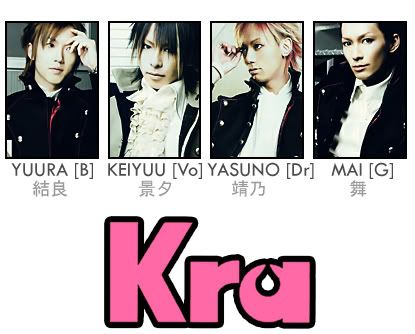 Kra
Kra
(KERA)
is a Oshare Kei (or visual kei now?) Japanese rock band started in 2001 and became major August 2006. They signed a contract with PS Company along with Miyavi, Alice Nine, Gazette, and
Kagrra,
. The band has started a 'dark' project (36481?) which shows the 'dark' side of the band.
Their first major release was
Heart Balance
and their last album is
dharma
.
official website
pscompany.co.jp/kra
WARNING
: this page don't belongs to Kra band , this is just a fanpage.
owner
_
lahoo
visit too
MUCC
,
Girugamesh
and
Kagrra,
purevolume