Members: Akiya , Izumi , Isshi , Nao , Shin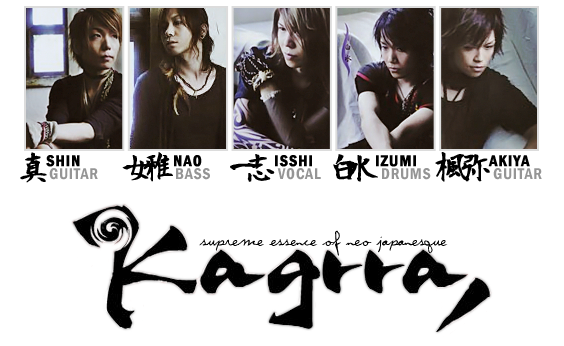 Kagrra,
Neo-Japanesque

Kagrra, originally started out in 1998 as a band called "Crow" under Key Party records. After being very successful, Crow changed their name and their record label. In 2000, they renamed themselves Kagrra, under PS Company records. Kagrra, is a deliberate mispelling of the Japanese word , or "kagura" (a traditional Japanese dance). It means "music of the gods".
After signing under Columbia records in 2003, Kagrra, added a comma (,) after their name to symbolize the dark side of the Chinese Yin Yang.
Kagrra,'s music is quite different from other japanese rock bands. They incorporate ancient Japanese music with modern rock, and their lyrics tell a story, some focusing on Japanese tales and myths. As for looks, Kagrra says that they're "Neo-Japanesque".
official website
pscompany.co.jp/kagrra,
WARNING:
this page don't belongs to Kagrra band , this is just a fanpage.
create by
_
lahoo
MUCC . Girugamesh . Kra