Members: Alex Church, Aaron Burrows, Steven Scott, Brian Canning, Brent Turner


With a well received LP and a critically acclaimed EP under their belt, Irving have built up quite a healthy buzz during their seven-year tenure and has realized just how much potential they can reach with Death In The Garden, Blood On The Flowers.
The release of their long awaited sophomore LP finds the band honing their lush pop sentiments to a true art form. An album of inspired variety and stirring depth, Death In The Garden will establish Irving shoulder to shoulder among the strongest rock bands performing today.
The songs that comprise Death In The Garden are the result of five musicians with varying tastes coming together and putting their own distinct touches on each track. From the oblique percussive start in the title track, to psych-pop wildness of "Situation" to the so-bizarre-it-works background breathing on "I Want To Love You In My Room," the band has pulled hooks out of the most unlikely places. In addition, the production and engineering help of Phil Ek (The Shins, Modest Mouse), as well as Aaron Espinoza (Earlimart) and Jim Fairchild (Grandaddy), helped to clearly express the vision Irving had in mind.
In the three and a half years since their first album, Good Morning Beautiful, Irving have opened for such note worthy acts like Franz Ferdinand, Arcade Fire, Broken Social Scene, and Polyphonic Spree. With a year's worth of touring planned throughout 2006, including performances at South By Southwest and many of the summer festivals, the band is ready to spread the news far and wide.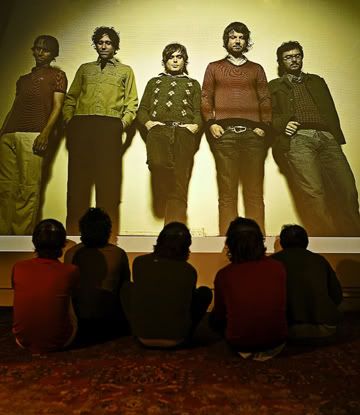 New Video for "Jen, Nothing Matters To Me" (Click here to see it on MTVU! *MAC USERS CLICK HERE*) Directed by Sharp-Ford.

Video for "I Want To Love You In My Room"
Directed by Irving's Brian Canning

Click here for the video for "Situation"Directed by Josh Forbes, Animated by PJ Fidler, Art by Max Miceli and DP is Josh Gundling



Click here to see Irving on FUEL TV.





Download a FREE Irving Ring Tone in the newest issue of the Nokia Unwired eZine!