Members: Russell Dela Cruz - Vocals/Guitar, Joey Dizon - Guitar, Mic Gallegos - Bass, Pepo Gohu - Drums
INTOLERANT

There is no stopping the juggernaut that is Intolerant, truly one of the finest crossover heavy metal/hardcore bands in the Philippines. In the past two years alone, Intolerant has been voted as the choice band to represent the Philippines with its scorched-earth approach to musicianship and its no-holds-barred songwriting style that has enabled them to co-headline festivals and concerts alongside the finest the world has to offer: thrash legends Death Angel and Testament, current heavy metal champions ArchEnemy, Shadows Fall, Lamb of God and international hardcore champions Hatebreed and Darkest Hour. In truth, right before its first full-length debut was released, the buzz about the band was so loud they were privileged to tour Hong Kong and scheduled to play as far away as Guangzhou, China, though barely a year in existence, alongside other reputable Asian acts like King Lychee and Hong-Kong based metal core act Shepherds The Weak. As of this writing, the very last few units of the band's debut Reasons For Rest are selling fast and the clamor for more material and more live performances from Intolerant is simply undeniable.
Formed in late 2007 out of the ashes of seminal Philippine metal act Skychurch, Dela Cruz and Dizon decided it was time that heavy metal made its presence felt above ground, and were bent on proving that the music could thrive among – and possibly surpass – the achievements of the Philippines' slew of mainstream rock bands. Defying the odds with a smart combination of heavy metal's musicianship and sensibilities of the hardcore songwriting approach and ethic towards self-promotion and marketing, immediately crossing over to the big events and festivals, and opening the doors to a younger generation of music fans who were too young to go to the underground shows. Appearing in every major event in front of thousands of fans consistently throughout 2007-2009 and right after the official release of their debut Reasons For Unrest in 2010, the band trudged on and made an unforgettable appearance at PULP Summer Slam 8 in front of 35,000 rabid music fans. In promotion of their album, the band toured nationwide, north to south, conquering the provinces of Davao and Cagayan de Oro, a feat few metal bands have ever achieved, and then took part in the 2008 and 2009 Fete Dela Musique. The band was literally all over the place, as it was also among the few to receive airplay on the country's only rock station DWNU107FM, with three singles making it to the charts (despite the station's initial apprehension to regularly play heavy music…), namely "Death Toll Rising," "Blunt Force Trauma" and "God of War," now certified mosh pit anthems wherever they go.
Towards 2011, Intolerant has been picked up by footwear giant Draven Shoes, and is counted among its international roster of talents, alongside ALL THAT REMAINS, ANTI-FLAG, AVENGED SEVENFOLD, SUICIDE SILENCE, NORMA JEAN, THE MISFITS and MXPX among others. The band recently recorded the single "Eye For An Eye" for the COLT45 Compilation LORDS OF THE LOUD (produced by guitarist Joey Dizon, and featuring acts like Skychurch, Badburn, Arcadia, Alex in Wonderland, Switch, etc.) and released a big-scale hardcore/metal campaign with Asia Brewery supporting the endeavor. And guitarist Joey Dizon was recently announced the be Lyric Music's official Filipino endorser of ESP and LTD guitars.
With new songs under their belt, an upcoming nationwide tour this 2011 and a brand new album out by the end of the year, Intolerant is still on a roll and representing the best of the best the Philippines has to offer. Keep your eyes open and raise those clenched fists in the air. Intolerant is conquering a city near you.

interested parties can directly contact the band through this site, or through email: intolerantmetal666@yahoo.com, or search for the band's other profile pages on purevolume.com/intolerantphilippines, myspace.com/intolerantmetal and profiles.friendster.com/intolerant.


check us out our on other sites:

http://facebook.com/intolerantmetal

http://myspace.com/intolerantmetal

twitter.com/intolerantmetal

http://rakista.com/intolerantmetal/

http://intolerantmetal.multiply.com/


The debut album from Intolerant, REASONS FOR UNREST, is now available!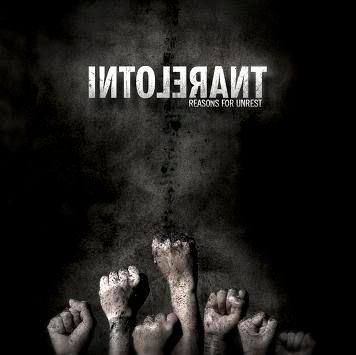 Released under Sonic Shape Records


You can get a copy from any or of our gigs

or

Visit any M1 or Odyssey store near you.


For online purchase, please click this link



For complete lyrics of the album, go to:
http://intolerantmetal.livejournal.com/578.html
http://intolerantmetal.multiply.com/journal
http://blogs.myspace.com/index.cfm?fuseaction=blog.view&friendID=251504882&blogID=464018715
For Gig skeds and Updates, Please got to:
http://www.facebook.com/Intolerantmetal
http://www.myspace.com/intolerantmetal
Intolerant wears DRAVEN Shoes!!!
http://www.draven.com/