Members: A.Sarkioja- vocals and bass, E.Sarkioja-guitar, Pete- guitar, Jupe-drums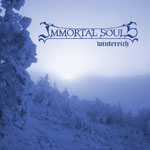 Immortal Souls
Wintereich
Buy Here
Listen Here
Immortal Souls on Myspace
Cold winds are blowing and snow is falling down from the frostpainted northern sky when you listen to IMMORTAL SOULS. That's the reason why the music of this Finnish masterpiece is sometimes described as wintermetal. From the beginning of their existence IMMORTAL SOULS has been known as one of the best kept secrets from the underground of the cold north. They play fast paced, aggressive melodic death metal and are compared to bands such as DARK TRANQUILLITY and IN FLAMES. After some demos and ep's the first full-length album "Under The Northern Sky" was released in 2001. The album was received very well, both by press and fans. Soon after the label Little Rose Productions, where the band was signed, decided to quit, IMMORTAL SOULS was contacted by FEAR DARK, label from Holland, and a few months later a deal was signed so the cold mission could continue.
Their debut on Facedown "Ice Upon The Night" is licensed from Fear Dark Records in Holland who released the album in Europe in the summer of 2003.
Finland's Immortal Souls are back with their 3rd full length album and 2nd US release with "Wintereich". The music of the four Finnish masters has been praised as a perfect blend between the Gothenburg metal of Dark Tranquility and melodic elements of early Children Of Bodom. Following up their previous Facedown release in the US "Ice Upon The Night", "Wintereich" is 11 tracks of what can be best described as their own genre of Winter Metal!