New Album "Under the Brilliant Lights" out now!
Stream/download the full album here: Bandcamp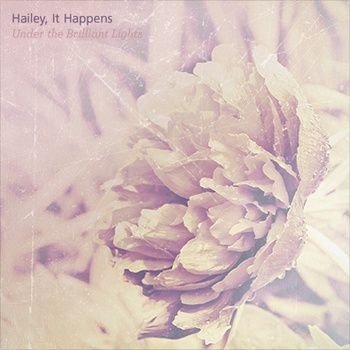 Also available at: iTunes | AmazonMP3
---
Purchase "Aurora" on Vinyl here:


Hailey, It Happens is a new electronic pop project from longtime friends and collaborators Chris Cleary and Bobby DiBari. Having written songs together since they were 14 years old, the Saugus, MA natives are trying to bring an earnest approach to the electronic scene, putting as much emphasis on songwriting as programming. With Bobby's intricate structures of piano, keyboards and programming, Chris's layers of upbeat vocals and the pair's heartfelt lyrics about love and heartbreak, Hailey It Happens is trying to bring emotion and sincerity into electronic pop, while still giving you something to dance to. With their debut E.P., Everything for You, recorded at Strangeways Studios, they hope to make their mark on the electronic pop scene. In 2011, Hailey, it Happens entered the studio to work on their first full-length record, Aurora, with producer Paul Leavitt (All Time Low, VersaEmerge, The Dangerous Summer). On April 5th, Hailey, it Happens released their debut album Aurora.

----------"Under the Brillant Lights" Press----------
"Melding classic songwriting themes, grandiose nostalgia, and a plethora of infectious musical influences, Under the Brilliant Lights is a stirring and touching collection of songs that will play equally well on frigid winter afternoons and muggy summer nights."
-- AbsolutePunk (Craig Manning)
"Some of the EP's biggest strengths are found in the subtle nuances and ambient sounds that are found sprinkled throughout the EP. It helps set the tone and strengthens the songs a lot...Under The Brilliant Lights is a big step up from it's predecessor and a really solid release. The band has crafted a really good listening experience."
-- Sound in the Signals Magazine & Blog
----------"Aurora" Press----------
"By the end of Aurora, it's quite difficult not to press repeat. The reason for this instigation is the overall unique style of Hailey, It Happens. It's not often that a band consisting solely of a vocalist and keyboard player can craft such a memorable record."
-- AbsolutePunk (Ryan Gardner)
"Holistically speaking, the overall sound of Aurora could be characterized by the natural phenomena itself. The album includes numerous breath-taking moments of sonic brilliance - the music is fun, catchy, and poppy enough to hook you in, but once you've been pulled in, the honest, passionate lyrics keep you around for more."
-- Lost In The Sound (Frank Wu)
"This experience was that rare thing - a band I'd never heard of, whom I suddenly couldn't wait to hear everything by after two or three songs. Hailey, It Happens have fashioned a gorgeous piece of musicianship with Aurora, which beams with the luminescence and grandeur of its title, using careful programming and heartfelt vocals to be at once banal and remarkable."
-- Under The Gun Reviews (Grace Duffy)
"Their debut full-length record "Aurora" is an 8-track gem and something that a normal naysayer of electronic-pop can enjoy without feeling any guilt...Crafting a cohesive record is a hard task but Hailey, It Happens have done it very well."
-- Nothing Sounds Better (Kyle Pedersen)


GENERAL CONTACT
haileyithappens@hotmail.com
Booking / Press