Members: Bert, Wes, Doug, JoAnna
Early Next Year's debut LP, "Catch These Words," was produced by Travis Adams, former frontman of Doghouse Records band, My Hotel Year, and current singer of One Eleven Records act, Inkwell. The first single "The Sick Charade" is available for streaming right here on PureVolume.

Be our friend on MySpace!



Check out our live videos on YouTube!



If you enjoy what you're hearing, please tell a friend!
As a band, word of mouth is the best tool at our disposal.

Like what you're hearing? Hate what you're hearing? Want us to play in your town?
Send any and all feedback to:
earlynextyear@yahoo.com

BIOGRAPHY ________________________________

In March 2007, powerpop quartet Early Next Year holed up in their Orlando, Florida home with producer Travis Adams (vocalist for the One Eleven Records band, Inkwell) to record their infectious debut LP entitled "Catch These Words", which was independently released July 3, 2007.

Previously they had formed in 2003, spent 2004 playing shows around the Sunshine State, and 2005 saw the independent release of their well-received EP, "Sarcasm is Your Friend." Rather than focus on the past and what they have done, Wes Locher (vocals, guitar, moog), Doug McPherson (guitar), Bert Long (bass, vocals), and JoAnna Leitch (drums) are more focused on the future, and what they will do... have everyone singing along. Say hello to Early Next Year.

The band has played over one hundred shows across Florida, gaining fans and turning heads with their energetic live performance as well as sharing the stage with acts such as Gym Class Heroes (Fueled By Ramen), Between The Trees (Universal), Sound The Alarm (Geffen Records), Tyler Read (Immortal Records), Inkwell (One Eleven Records), The Progress (Negative Progression Records), Rory (One Eleven Records), & Damiera (Equal Vision Records).


PRESS_____________________________________

"'Catch These Words' is laden with buoyant dance-rock vibrations and springy power punk confections... reflective of power punk magnates like Cartel, Rory, and Outsmarting Simon."
- Read full review at Absolutepunk.net

"'Catch These Words' is chockfull of amazing hooks and great cuts. Good stuff!"
- Read full review at Smother.net

MERCHANDISE ______________________________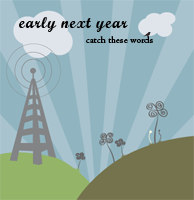 Catch These Words
independent release - AVAILABLE NOW!
click here to order

Tracklisting:
01. Say Hello
02. Send A Letter
03. Catch These Words
04. Lifeless
05. Plan B
06. They Always Say
07. Right Here (With Me)
08. Never Saw It Coming
09. One Down, Two to Go
10. The Sick Charade
11. All Your Advice
12. Something That I Miss

Purchase Early Next Year Merchandise:
Early Next Year Webstore
smartpunk.com
cdbaby.com
the iTunes Music Store
interpunk.com

CONTACT __________________________________

Instant Message the band:
Wes / vocals, guitar, moog / AIM: antiyoumovement
Doug / guitar / AIM: bnlfan01
JoAnna / drums / AIM: musiciansdream81
Bert / bass / AIM: ibassalot

For anything else:
earlynextyear@yahoo.com