Members:
Colin (Vocals/Guitar)
Tommy (Guitar/Bass)
Adam (Guitar/Bass/Vocals)
Tony (Drums/Vocals)
CHECK OUR BLOG FOR BAND NEWS & UPDATES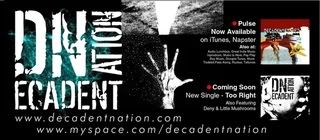 Emerging from Mid-Missouri in 2004, Decadent Nation quickly developed their talent for packaging socio-political messages into their own style of high-energy hard rock.

Since the release of their debut album, PuLsE, in November, 2005, Decadent Nation has headlined or played over 100 shows around Missouri, and have opened for national acts Chevelle, Powerman 5000, Three Days Grace, Lacuna Coil and Shadows Fall. Decadent Nation draws from musical influences such as Tool, Rage Against The Machine, and The Mars Volta, to literary influences Ralph Waldo Emerson and George Orwell.

Having established a solid fan base, Decadent Nation is looking forward to taking their pulsating live performance on the road. The band puts everything they have into their music, and it shows in their visceral stage presence. "The day to day grind of living make most people desensitized to their natural state of being", says front man Colin LaVaute, "...our music is bred on the notion that everyone needs a release from the norms of civilized society every once in a while, and the let the beast come out and play."