Members: Brandon DiCamillo, Bam Margera, Jesse Magera, Rich Vose, Matt Cole
ATTENTION
Visit Rake Yohn, Matt Cole on myspace.



Are you a MySpacer that loves this band? Then join the "Official Gnarkill/Shitbirdz Fanpage!" Approved by Gnarkill and the rest of the gang. CLICK HERE if you want to visit the fanpage.



Gnarkill was founded in 2002 by Bam Margera. Together with Brandon DiCamillo and Hoofbite they wrote a script for the movie "Haggard" where one of the main characters "Hellboy" (naturally played by RakeYohn) enthusiastically claimed that GNARKILL is the best band in the world. When the movie was filmed, Gnarkill was just a Spinal-Tap esque fictional band with absolutely no songs recorded whatsoever. By the time the film was released in summer of 2002 with worldwide distribution, Bam starting recieving thousands of letters and emails from people asking where to find CDs of this incredible band. Not realizing that people would react so well to a fake band, Bam recruited his brother Jess (drummer for CKY) and Brandon DiCamillo to record 9 songs for the debut album from Gnarkill. The recording sessions took place over the course of 2 weeks every morning after all-night drinking binges in Jess and Bam's basement in Pennsylvania with 2 microphones and a 4-track tape recorder. The results were astonishing. By the beginning of 2003, the album was released on 10/90 records which only has distribution on the internet. The album has since sold 500 thousand copies and won absolutely no awards by anyone, ever. By 2006, Gnarkill teamed up with legendary producer Unkle Matt & the Shitbirdz to record its highly anticipated follow-up.
3 years after the debut of the Gnarkill monster, Dico and Bam put the cameras down, Jess, Shitbird and Vose take a break from the CKY tour, buy some microphones, a good chunk of the Yeungling brewery, and a portable studio and lay down some more drunken gems that would make both Liberace and Barbara Streisand jealous. The palette on this one goes from full-on metal to piano jams that sounds more on par with a Las Vegas lounge session at the Stardust. Dico gets crazy with his freestyles all ranging from pirates looking for hidden VHS tape treasures and shitty birthday parties at Granite Run Mall's "Aladdins Castle Arcade" to RakeYohn's horrible fashion sense. Unkle Matt & the Shitbirdz also makes his drunken debut on this one as well as lending some knob-twisting skills. Overall, you should go grab a 12 pack, crack open the shrinkwrap on this sucker, put on some headphones and laugh your ass off.
The third album "Ten Gallons of Fuck You Juice" or "Gnarkill III" will be released on iTunes. We are not going to be pressing it on to a cd this time.


GNARKILL Track Listing: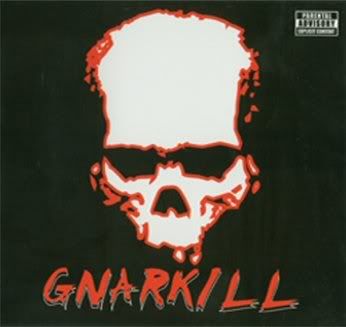 1.) "Skeletor/Beastman"
2.) "I Got Erection!"
3.) "Pantyhose Pornshop"
4.) "Mustard Man"
5.) "Swab the Deck"
6.) "Chunky or Thin?"
7.) "The Golden Egg"
8.) "Rock! Rock! Rock!"
9.) "Arab Dance Party"
1.)"Yooo!"
2.)"Dicks and Buttkisses!"
3.)"Granite Run Mall in the 80's!"
4.)"Shitbird Serenade!"
5.)"Rakeyohn, the Thespian!"
6.)"Ride the Ass of a Midget!"
7.)"Best Ever!"
8.)"If You Want to Feel Pleasure, You Gotta Feel Pain!"
9.)"Dico at the Piano Bar!"
10.)"Amish Metal!"
11.)"Save Your Gift Receipt!"
12.)"Hillbilly Flapjack!!"
13.)"Video Pirates!"
14.)"Goose Grease!"
15.)"18 Wheels of Sin!"
16.)"My Girls Gone (its a cover song)"
17.)"Rake at the Mens Wearhouse!"
18.)"Urine!"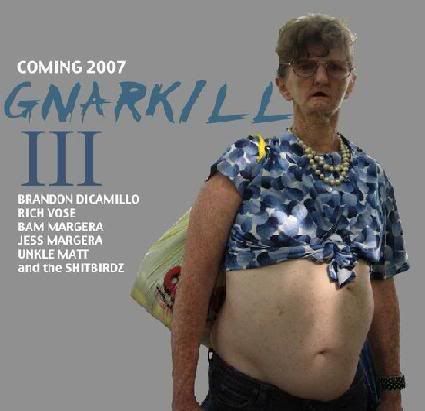 This CD will be released on "iTunes".



Tracks will be listed soon!