Members: Chris Stephens(Vocals, Guitar), Matt Simmons(Lead Guitar, Whisper Tracks), Ray Faulkenberry(Synthesizer, Vocals), JR Baker(Bass), Austin Creech (Drums)
DEMO SONG FOR THE NEW ALBUM IS UP NOW!!!! CHECK IT OUT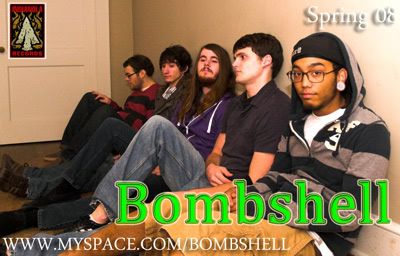 Bombshell's "To Hell With Motives" Now In Stores
Click
HERE to order now
" Bombshell has blurred the lines between the genericically termed genres of emo, screamo, and post hardcore, to form a style of music that is appealing to almost all lovers of music. "Theres something for everyone"... From clean, to intricate guitar work, mixed with angelic harmonies and heart felt screams, Bombshell is the definition of what a band should be; not only creative beings, nor exciting entertainers...they are lovers of the music they create and the people that love what they do. Bombshell is not a label, it is not a genre, it is simply quality music... "We are not a hardcore band, we are not a screamo band, we arent an emo band...we are a BAND. Visit the website for more information and sign the guestbook with your suggestions and comments.
Thanks and take care. -- Bombshell.
Best way to contact us
MYSPACE!