Members: Matt, Mike, Steve, Brad
badapplesmusic.net

Singer/songwriter Matthew Bogdan met Mike Happel though a mutual friend in November 2004 and formed the band Bad Apples. Steve joined and completed the band in July 2006 as the bassist. If you are looking for melodic songs with powerful music. These are the guys you are looking for.
Be a Bad Apples friend on myspace.com just click here.

Purchase "Left Standing" on cdbaby.com now for only $5.



Or get it right here with free stickers!!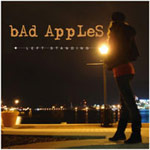 Left Standing EP only $5